Influence of Christianity on the legal regime of war captivity in Rome. Special reference to family law institutions: marriage
Keywords:
prisioners of war, marriage, christianism
Abstract
The Christianism entered indirectly into the imperial legislation by promoting the adaptation of the imperial laws to the Christian doctrine. The influence of the Christian principles is evident in the legal treatment given to the marriage of prisoners of war.  In the sources the evolution from the classical principle dirimitur matrimonium captivitate to the indissolubility of marriage of prisoners of war is clear.
Keywords: prisoners of war; marriage; Christianism.
References
Accarias, Calixte. Précis de Droit Romain. Ed. Cotillon. Paris, 1886.
Amirante, Luigi. Captivitas e postliminium. Ed. Jovene. Napoli, 1950.
Bonfante, Pietro. Corso di Diritto Romano. Vol. 1. Ed. Giuffrè. Roma, 1963.
Churruca, Juan. "La actitud del Cristianismo ante la esclavitud en los primeros siglo (I-IV)." Seminarios Complutenses de Derecho Romano 12 (2000) 31-67.
Coronas Santos, Manuel. "La ausencia en el Derecho histórico español." Anuario de Historia del Derecho Español 52 (1983) 289-332.
D´Ercole, Giuseppe. "Il consenso degli sposi e la perpetuità del matrimonio nel diritto romano e nei Padri della Chiesa." SDHI (1933) 18-75.
Di Marzo, Salvatore. "Dirimitur matrimonium captivitate." Studi in onore di Siro Solazzi. Napoli (1949): 1-5.
Guarino, Antonio. Diritto Privato Romano. Ed. Jovene. Napoli, 1984.
Imbert, Jean. "Réflexions sur le christianisme et l´esclavage en Droit Romain. ″ RIDA 2 (1949): 445-476.
Laín Casado, Cristina. La ausencia en el Derecho civil y en el Derecho militar: Estudio histórico y comparado. Sevilla, 2016.
Longo, Giannetto. "Affectio maritalis." BIDR 46 (1939): 119-141.
Panero, Patricia. Ius occidendi et ius accusandi en la lex Iulia de adulteriis coercendis. Valencia, 2001.
Pugliese, Giovanni. Istituzioni di Diritto Romano. Torino, 1990.
Robleda, Olis. El matrimonio en Derecho Romano. Roma, 1970.
Serrano, Ignacio. La ausencia en Derecho español. Madrid, 1943.
Talamanca, Mario. Istituzioni di Diritto Romano. Milano, 1990.
Volterra, Edoardo. "In tema di Accusatio Adulterii." Studi in Onore di Pietro Bonfante. Vol. 2. Milano (1930): 109-126.
Volterra, Edoardo. "Matrimonio en Diritto Romano." NNDI. Rome (1960): 330-335.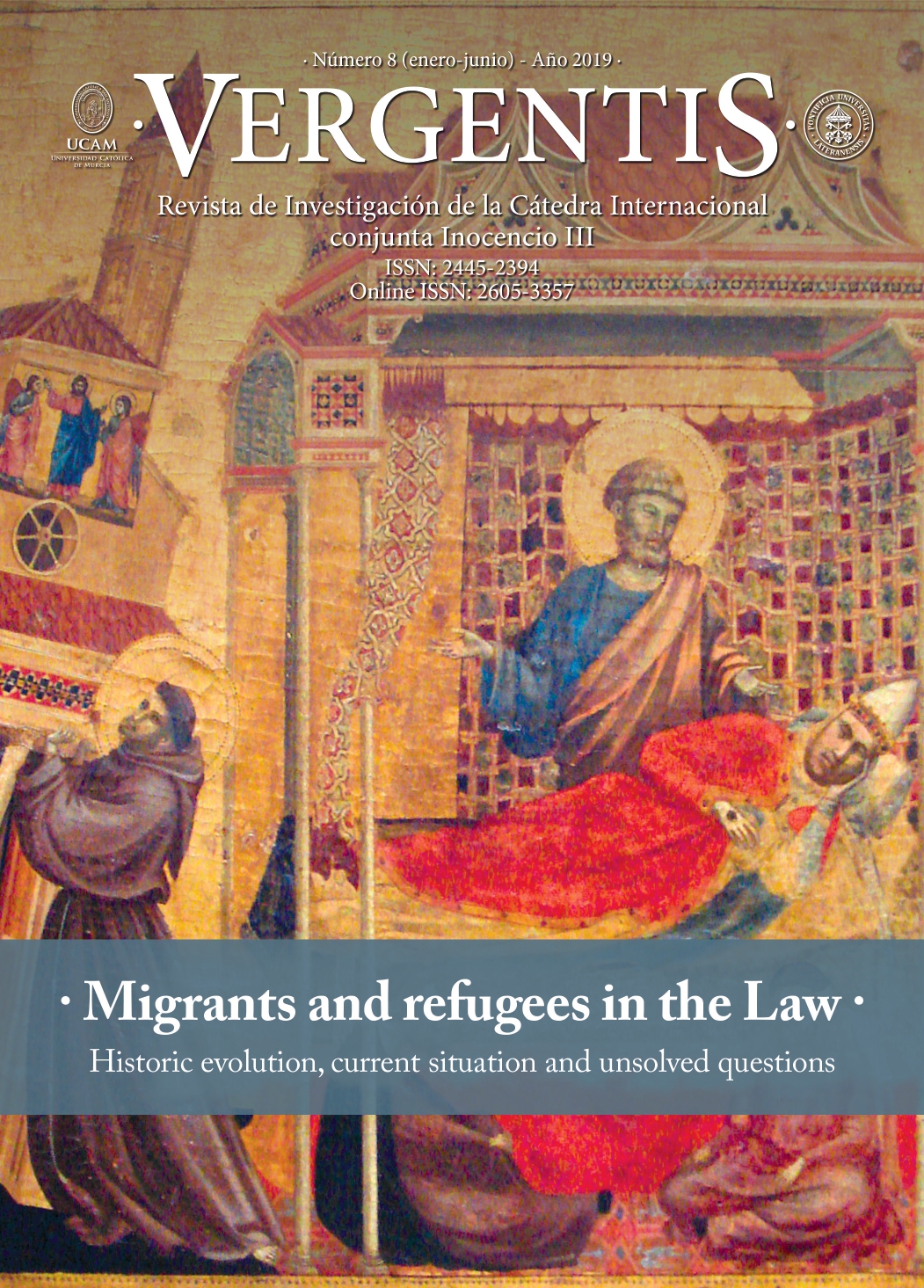 Downloads
How to Cite
Montañana Casaní, A. (2019). Influence of Christianity on the legal regime of war captivity in Rome. Special reference to family law institutions: marriage. Revista De Investigación De La Cátedra Internacional Conjunta Inocencio III, 1(8), 159–174. Retrieved from https://vergentis.ucam.edu/index.php/vergentis/article/view/81