Le mariage dans le contexte du dialogue islamo-chrétien
Keywords:
marriage, islam, christianity, interreligious marriage, interreligious dialogue, religious communities
Abstract
The study deals with the Islamo-Christian marriage from a theological, juridical and sociological perspective. A theoretical framework will be presented, mentioning at first the principal aspects of the marriage in Islam. Secondly, our focus will be on the conception of the marriage with "the other" and the respective impediments that communities impose to those wanting to marry someone from a different religion. The present study is aimed to offer an objective and interdisciplinary look over the topic of the Islamo-Christian marriage, which is still much debated in Eastern as well as in Western societies, but at the same time represents an increasingly widespread phenomenon.
Key words: marriage, Islam, Christianity, interreligious marriage, interreligious dialogue, religious communities.
References
'Abd al'Ati, Hammudah. The family structure in Islam. Kuala Lumpur 2008.
Abdul-Rauf, Muhammad. Marriage in Islam, 5e éd. Alexandria/Virginia, 1983.
Abric, Jean Claude. Pratiques sociales et représentations. Vendome, 2008.
Ascha, Ghassan. Mariage, répudiation et polygamie en islam [الزواج والطلاق وتعدّد الزوجات في الإسلام]. London, 1997.
Basit, Tehmina. "I want more freedom, but not too much : British Muslim girls and the dynamism of family values." Gender and Education 9 (1997): 425-439.
Baudot, Denis. L'inséparabilité entre le contrat et le sacrement de mariage. La discussion après le Concile Vatican II. Roma, 1987.
Bausani, Alessandro. Il Corano, traduction italienne avec introduction de l'auteur. Firenze, 1961.
Ben Jemia, Monia. "Liberté de religion et statut personnel." Diritto e questioni pubbliche 9 (2009): 91-106.
Bouaoun, Melynda. "Le mariage mout'a et le droit international." Revue internationale de droit comparé 67 (2015) : 521-540.
Briones Martínez, Irene María "Del diálogo interreligioso al matrimonio interreligioso. Disparidad de cultos y de tradiciones." Revista Española de Derecho Canónico 69 (2012): 329-369.
Brockelmann, Carl. History of the Islamic Peoples. London, 1959.
Bussi, Emilio. Principi di diritto musulmano. Bari, 2004.
Camardi, Carmela. L'istituto del matrimonio negli statuti personali delle comunità religiose in Libano. Thèse de Doctorat, Università Ca' Foscari. Venezia, 2016.
Camau, Michel, and Geisser, Vincent. Habib Bourguiba. La trace et l'héritage. Paris, 2004.
Carreras, Joan. Las bodas: sexo, fiesta y derecho. Madrid, 1998.
Catoire, Alexandre. "Le divorce, d'après l'Église catholique et l'Église orthodoxe." Revue des études byzantines 88 (1911): 167-170.
Censi, Sandro. Diritto musulmano e dei Paesi islamici. Fonti, Statuto personale, Diritto penale. San Lazzaro di Savena, 2017.
Chehata, Chafik. Droit musulman : applications au Proche-Orient. Paris, 1970.
Cortés Diéguez, Alejandro. "El matrimonio mixto en la Iglesia latina y en las Iglesias orientales católicas y ortodoxas. Aspectos teológicos y canónicos." Revista Española de Derecho Canónico 63 (2006): 655-722.
Deeb, Lara. "Beyond sectarianism: Intermarriage and social difference in Lebanon." International Journal of Middle East Studies 52 (2020): 215–228.
Del Mar Martín García, Maria. "Breves notas a propósito del bonum coniugum." Ius canonicum 37 (1973): 271-292.
Dien, Mawil Izzi. Islamic Law. From historical foundations to contemporary practice. Edinburgh, 2004.
Drieskens, Barbara. "Introduction. Sur le mariage." Les métamorphoses du mariage au Moyen Orient, Les cahiers de l'IFPO (2008): 7-12.
Eckert, Ulrich. I matrimoni interconfessionali in Italia. Torino, 1995.
GannagÉ, Pierre. Le pluralisme des statuts personnels dans les États multicommunautaires : droit libanais et droits proche-orientaux. Bruxelles-Beyrouth, 2001.
Gardet, Louis. L'islam. Paris, 1967.
Hervada, Javier. Studi sull'essenza del matrimonio. Milano, 2000.
Hessini, Leila. "Abortion and Islam: Policies and Practice in the Middle East and North Africa." Reproductive Health Matters 15 (2007): 75-84.
Hobhouse, Leonard Trelawney. Morals in Evolution: a Study of Comparative Ethics. London, 1951.
Islahi, Amīn Aḥsan. Fundamentals of Ḥadīth Interpretation, traduit par Tariq Mahmood Hashmi. Al-Mawrid Lahore, 2009.
Jaafar Mohammad, Imani, and Lehmann, Charlie. "Women's Rights in Islam Regarding Marriage and Divorce." Journal of Law and Practice 4 (2011).
Jadaane, Fehmi. "Femminismo e Islam." Rivista internazionale di filosofia e psicologia, 2 (2011): 207-214.
Jomier, Jaques. Introduction à l'Islam actuel. Paris, 1964.
Kassar, Lana. L'égalité dans le divorce. Etude comparative entre le droit français et le droit libanais, Thèse de Doctorat. Strasbourg, 2015.
Leeman, Alex B. "Interfaith Marriage in Islam: an Examination of the Legal Theory behind the Traditional and Reformist Positions." Indiana Law Journal 84 (2009): 743-771.
Lefebvre Teillard, Anne. Introduction historique au droit des personnes et de la famille. Paris, 1996.
Mbow, Penda. "Droits humains et religions : autour de la problématique femme et Islam." Genre et dynamiques socio-économiques et politiques en Afrique. Dakar (2011): 75-90.
Mervin, Sabrina. "Normes religieuses et loi du silence : le mariage temporaire chez les chiites du Liban." Les métamorphoses du mariage au Moyen Orient. Beyrouth (2008): 47-58.
Meyendorff, Jean. Le mariage dans la perspective orthodoxe. Paris, 1986.
Moneta, Paolo. Il Matrimonio nel nuovo diritto canonico. Genova, 1998.
Morant, Vicente Benedito. "La filiación en los matrimonios interreligiosos entre católicos e islámicos." Anuario de Derecho Canónico 2 (2013):163-208.
Morgan, Clarke. Islam and Law in Lebanon. Sharia within and without the State. Cambridge, 2018.
Moukarzel Héchaime, Alexa. "Actualités du statut personnel des communautés musulmanes au Liban." Droit et cultures 59 (2010): 121-164.
Navarrete, Urbano. "L'Impedimento di disparitas cultus." I matrimoni misti. Città del Vaticano (1998): 120-122.
Navarrete, Urbano. Structura iuridica matrimonii secundum Concilium Vaticanum II. Roma, 1994.
Patai, Raphael. Sex and family in the Bible and the Middle East. New York, 1959.
Pirone, Bartolomeo. Profilo della famiglia nell'Islam. Jérusalem, 1975.
Pruvost, Lucie. "Le mariage interreligieux au regard de l'islam." Hommes et migrations, 1167 (1993): 30-33.
Rondot, Pierre. L'Islam et les musulmans d'aujourd'hui. Paris, 1958.
Rouco Varela, Antonio. "Peculiaridad cristiana del matrimonio entre cristianos de distintas Iglesias. Raíces de unidad y de discrepancia." Diálogo Ecuménico 8 (1973): 47-56.
Rousseau, Oliver. "Divorcio y nuevas nupcias. Oriente y Occidente." Concilium 24 (1967): 118-139.
Saad, Charles. Les mariages islamo-chrétiens. Paris, 2005.
Sabbarese, Luigi. Il matrimonio canonico nell'ordine della natura e della grazia. Commento al Codice di Diritto canonico. Libro IV, Parte I, Titolo VII. Città del Vaticano, 2016.
Simri (Al-), Magid. Le mariage en Islam et la déviation des musulmans de sa doctrine [الزواج في الإسلام وإنحراف المسلمين عنه]. Beyrouth, 1986.
Stokes, Charles, Ellison, Christopher. "Religion and attitudes towards divorce laws among U.S. adults." Journal of Family Issues 31 (2010): 1279-1304.
Tellenbach, Silvia. "L'apostasia nel Diritto islamico." Daimon. Annuario di Diritto comparato delle religioni 1 (2001): 53-70.
Tobich, Faïza. Les statuts personnels dans les pays arabes. De l'éclatement à l'harmonisation. Aix en Provence, 2015.
Tognetti Bordogna, Mara. Legami familiari e immigrazione: i matrimoni misti. Torino, 1996.
Toualbi, Issam. "Le Droit islamique face aux enjeux du temps historique. Réflexion sur l'aptitude de la Charia à s'adapter aux exigences modernes du droit." Jurisdoctoria 3 (2009): 97-117.
Vanzan, Paolo. "Mulieris dignitatem: reazioni, contenuti e prospettive." La Civiltà Cattolica 139 (1988): 250-260.
Viola, Federica. "Genesi del concetto di amore coniugale nella dottrina del Concilio Vaticano II." Kritische Zeitschrift für überkonfessionelles Kirchenrecht 2 (2015): 109-134.
Ware, Kallistos. L'orthodoxie. L'Église des sept conciles. Paris, 1967.
Weber, Anne Françoise. "Briser et suivre les normes : les couples islamo-chrétiens au Liban ." Les métamorphoses du mariage au Moyen Orient. Beyrouth (2008): 13-31.
Witte, John Jr., and Green, M. Christian. Religion & Human Rights. An introduction. Oxford, 2012.
Wrenn, Lawrence. "Refining the Essence of Marriage." The Jurist, 46 (1986): 532-551.
Zymaris, Philip. "Marriage and the Eucharist: from unity to schizophrenia – the positive theology of marriage and its distortion from an eastern orthodox point of view." Love, Marriage and Family. New Jersey (2016): 105-126.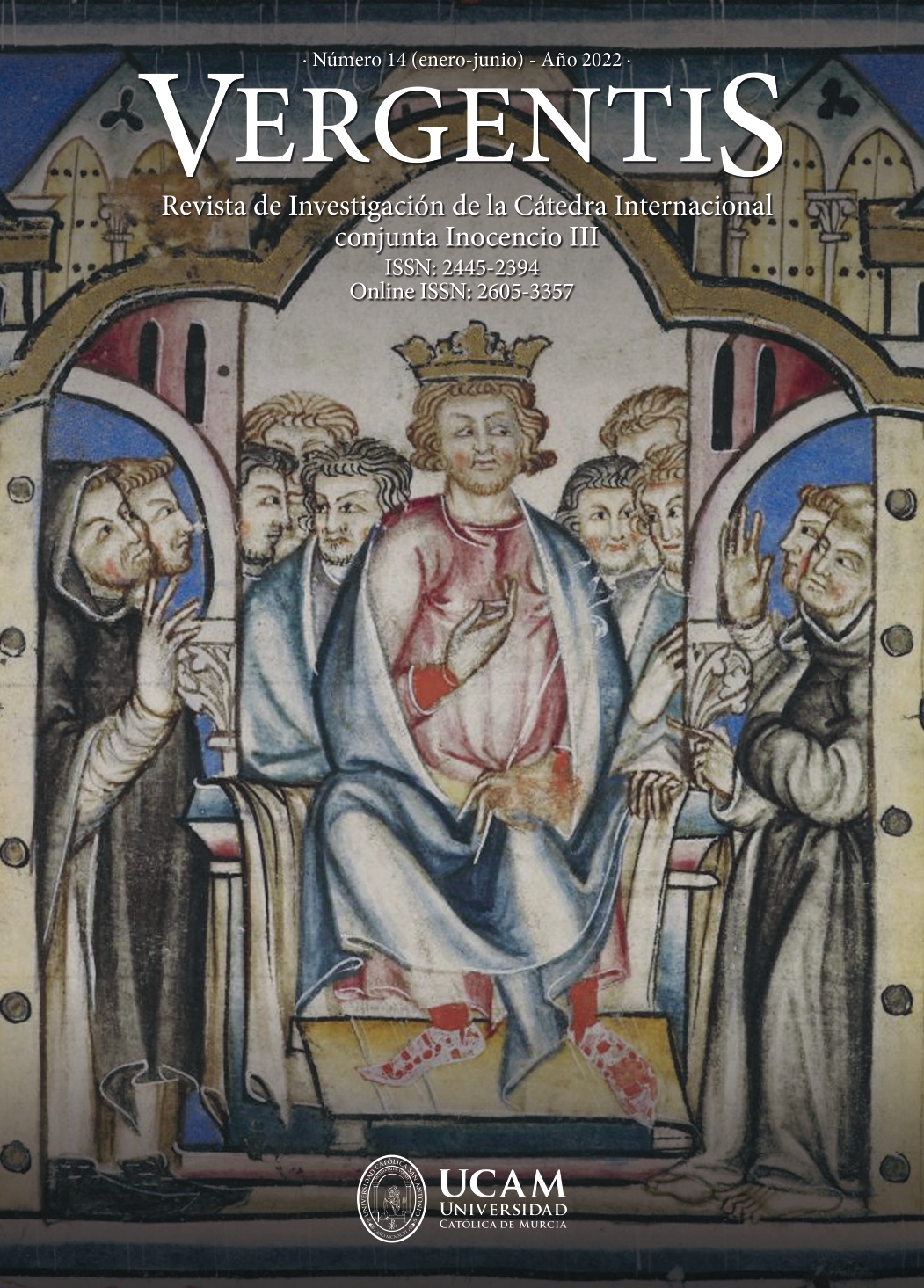 Downloads
How to Cite
Pastorelli, M. (2022). Le mariage dans le contexte du dialogue islamo-chrétien. Revista De Investigación De La Cátedra Internacional Conjunta Inocencio III, (14). Retrieved from https://vergentis.ucam.edu/index.php/vergentis/article/view/236
License
Copyright (c) 2022 Matteo Pastorelli
This work is licensed under a Creative Commons Attribution-NonCommercial-NoDerivatives 4.0 International License.