"Build bridges, break down walls". Religious identity in the face of migration in the papal magisterium
Keywords:
identità religiosa, inmigrazione, principi conciliari, magistero pontificio
Abstract
The right to religious identity it's very important, both from the legal point of view, both socio-anthropological perspective, as constitutive element of personal identity and belonging factor. Overcoming this dichotomy is achievable with the establishment of an authentic interreligious dialogue as an irreplaceable component of intercultural dialogue, where the awareness of diversity can be a source of enrichment and a stimulus to the growth of the community. In the current historical moment, when the contrasts between the Peoples facing the Mediterranean risk compromising the delicate balances of the pluralist, multi-ethnic and multi-confessional society, a reflection on the basis of the conciliar principles and the papal magisterium, appears underline the interreligious dialogue able to promote a "dialogical" right to religious identity even  in the intangibility of the Depositum Fidei moving, between suffered influences and produced contaminations, along the paths of the Church "in Exit".
Keywords: religious identity; immigration; conciliar principles; papal magisterium.
References
Bartolomei Maria Cristina. "Papa Francesco e la modernità." Italianieuropei, jun. 2015, www.c3dem.it>2016/01
Cananzi, Raffaelle. "Il Concilio Vaticano II e Papa Francesco." Focus. Rivista di Studi Politici – S. Pio V, Anno XXVIII – apr. 2016.
Cimbalo, Giovanni. "L'appartenenza religiosa tra apostasia, divieto di proselitismo e ricerca d'identità." Stato, chiese e pluralismo confessionale. Rivista telematica sept. 2011, p. 40,
www.statochiese.it
De Paolis, Velasio. "Formazione giuridica civilistica e canonistica." Seminarium, XLIII/2003, nn. 1-2, p. 155 ss.
Lillo, Pasquale. "Il diritto all'identità religiosa negli ordinamenti statali." Quaderni di diritto e di politica ecclesiastica 2 (2015): 359-388.
Lingua, Graziano. "Identità religiosa e crisi dell'integrazione politica europea." Lessico di etica pubblica 2 (2015): 41-42.
Natoli, Sergio. "Pastorale interculturale in situazione migratoria nella chiesa locale." Rev. Inter. Mob. Hum. 39 (2012): 245-247.
Parisi, Marco. "Uguaglianza nella diversità. Identità religiose e democrazia costituzionale." Stato, chiese e pluralismo confessionale. Rivista telematica statochiese.it 18 (2019): 11-12.
Pino, Giorgio. "Identità personale, identità religiosa e libertà individuale." Quaderni di diritto e di politica ecclesiastica 1 (2008): 119-152.
Pino, Giorgio. "Libertà religiosa e società multiculturale." Diritto, tradizioni, traduzioni. La tutela dei diritti nelle società multiculturali. Torino, 2013.
Pino, Giorgio. "Sulla rilevanza giuridica e costituzione dell'identità religiosa." Ragion Pratica 45 (2015): 370.
Tarantino, Daniela. "Eppur si muove. La socialità del diritto canonico tra ieri e domani." Costituzione, religione e cambiamenti nel diritto e nella società. Pisa (2019): 215-225.
Tarantino, Daniela. "Per un nuovo sistema comunicativo della Chiesa. Il Dicastero per la Comunicazione nel progetto di riforma curiale." Ephemerides Iuris Canonici 58 (2018): 443-460.
Zani, Angelo Vincenzo. "La responsabilità della teologia per una Chiesa in uscita." Teologia 42 (2017): 3-22.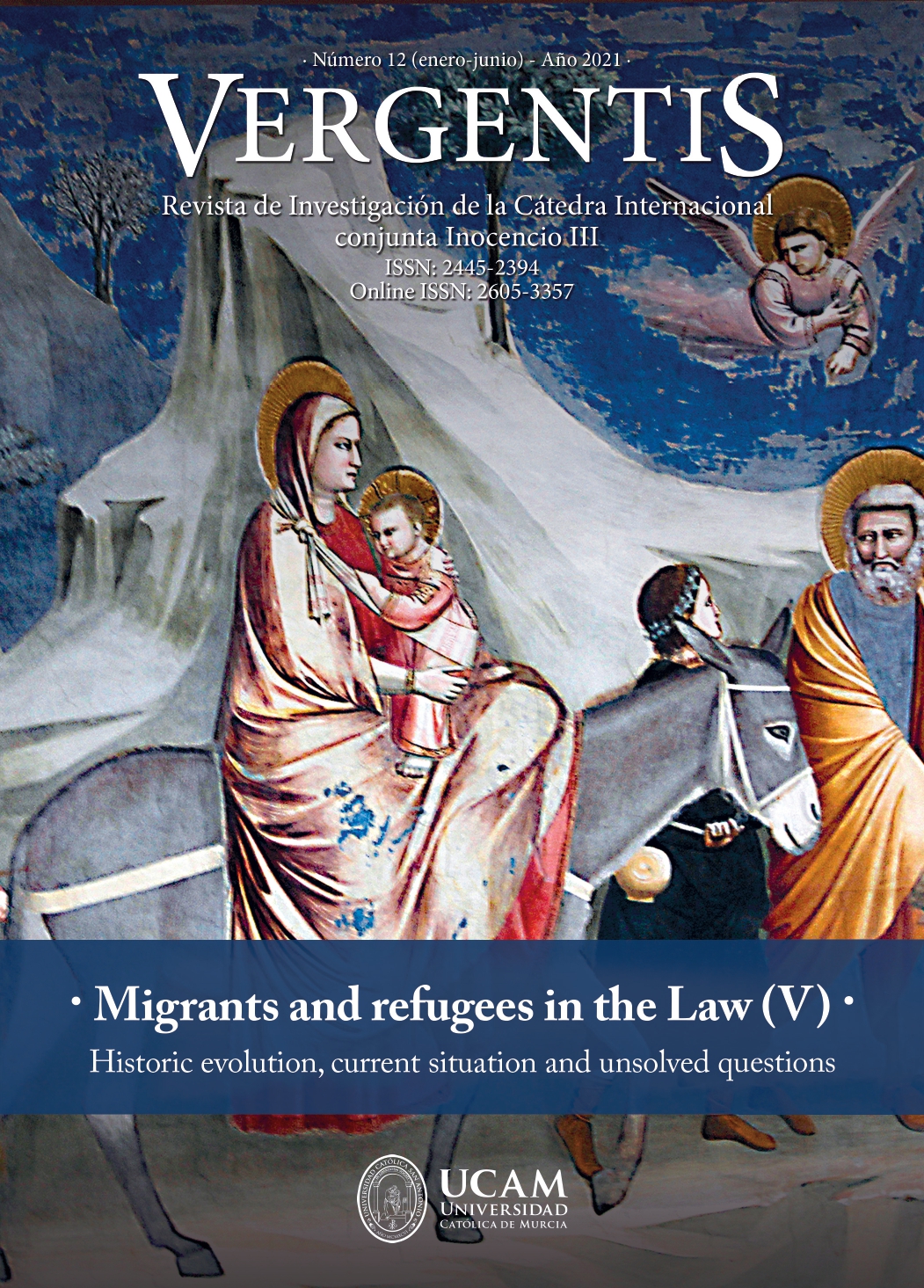 Downloads
How to Cite
Tarantino, D. (2021). "Build bridges, break down walls". Religious identity in the face of migration in the papal magisterium. Revista De Investigación De La Cátedra Internacional Conjunta Inocencio III, 1(12), 131–147. Retrieved from https://vergentis.ucam.edu/index.php/vergentis/article/view/224