Confession and sacramental century in the Fourth Council of Lateran: from the regulations to the doctrinal reflection
Keywords:
Confession, sacramental seal, Fourth Lateran Council
Abstract
Among the standards approved by the Fourth Lateran Council the XXI stands out as the most important in the sacramental discipline. As usual it takes the name from its opening words, Omnis utriusque sexus. Through it, not only did the Church sanction a universal law that established the obligation of the believer to
confess all his sins to their priest annually, in order to receive at least at Easter, after the execution of the imposed penance, the sacrament of the Eucharist, but also introduced a broader regulation of the same sacrament which brought up a relevant subject such as the sigillum confessionis and the related penalties which were applicable if violated. For the first time this institution, which has its roots in the divine right, received a general and organic legislative discipline intended to become the subject for reflection on the part of the doctrine, especially in the wake of its reception in the Liber Extra by Gregory IX (X 5. 38. 12).
Given a brief excursus on the emergence in the jus vetus of a first regulation in relation to the duty of the Seal of Confession, we will try to understand the impact of l of the Innocentian legislation on doctrinal reflection and the development of the following regulation on the subject between the Middle Ages and the modern age.
Keywords: Confession; sacramental seal; Fourth Lateran Council.
References
<div>
<p>Abbas Panormitanus. <em>Commemtaria in quartum et quintum decretalium libros</em>. Venetiis, 1591.</p>
<p>Alberigo, Giuseppe, Joannou, P&eacute;ricl&egrave;s Pierre, Leonardi, Craig, and Prodi, Paolo. Eds. &ldquo;Concilium Lateranense IV &ndash; 1215.&rdquo; <em>Conciliorum Oecumenorum Decreta</em> . Bolo&ntilde;a, 1973.</p>
<p>Andreae, Iohannes. "In quartum Decretalium librum Novella Commentaria." <em>Venetiis: apud Franciscum Franciscium Senensem</em> (1581)</p>
<p>Aphraates, Demonstrationes.<em> Patrologia syriaca</em>. Paris, 1894-1907.</p>
<p>Aubert, Roger, Fedalto, Giorgio, and Quaglioni, Diego. "Storia dei concili." Milano, 1995.</p>
<p>Augustinus. &ldquo;Sermo 82.&rdquo; <em>Sermones ad populum</em>.Vol. XXXVIII.</p>
<p>Barbosa, Agostinho. <em>Pastoralis solicitudinis, siue, de officio, et potestate parochi, tripartita descriptio</em>. Lugduni, 1688.</p>
<p>Berardi, Carlo Sebastiano. <em>Gratiani Canones genuini ab apocryphis discreti</em>. Universidad de Salamanca, 1783.</p>
<p>Brambilla, Elena. &ldquo;Alle origini del Sant'Uffizio: penitenza, confessione e giustizia spirituale dal Medioevo al 16. Secolo.&rdquo; Bolo&ntilde;a, 2000.</p>
<p>Cappello, Felice M. <em>Tractatus canonico-moralis de sacramentis. De poenitentia. </em>Vol. 2. Roma, 1944.</p>
<p>Chiffoleau, Jacques. <em>La Chiesa, il segreto e l'obbedienza. La costruzione del soggetto politico nel medioevo.</em> Bologna, Il Mulino, 2010.</p>
<p>Condorelli, Orazio. "Dalla penitenza pubblica alla penitenza privata, tra Occidente Latino e Oriente Bizantino: percorsi e concezioni a confronto." <em>Lex Iustitia Veritas. Per Gaetano Lo Castro. Omaggio degli allievi. </em>Napoli<em>, </em>2012.</p>
</div>
<p>d&rsquo;Aquino, Tomaso. <em>Summae Theologia.</em></p>
<div>
<p>D&rsquo;Aquino, Tommaso. <em>Commento alle Sentenze di Pietro Lombardo</em>. Bolo&ntilde;a, 1999.</p>
<p>de Segusio, Henricus, and Cardinalis Hostiensis. "In&nbsp; quintum Decretalium librum commentaria." Venetiis, apud Iuntas, 1581</p>
<p>Fantappi&eacute;, Carlo. &rdquo;Giurisdizionalismo e la Chiesa in Italia.&rdquo; <em>Dizionario Storico Tematico La Chiesa in Italia (versi&oacute;n inform&aacute;tica)</em>. Vol. I. Roma, 2015.</p>
<p>Ferme, Brian E. &ldquo;Introduzione alla storia del diritto canonico.&rdquo; <em>Il diritto fino al Decretum di Graziano. </em>Vol. I. Roma, 1998.</p>
<p>Ferrari Da Passano, Paolo. &ldquo;Il segreto confessionale.&rdquo; <em>La civilt&agrave; cattolica</em> .Vol. IV. (1993).</p>
<p>Foreville, Raymonde. <em>Storia dei Concili Ecumenici, VI, Lateranense I, II, III e Lateranense IV</em>. Ciudad del Vaticano, 2001.</p>
<p>Friedberg, Emil.<em> Compilatio quarta Decretalium in Quinque compilationes antiquae</em>. Leipzig ,1882.</p>
<p>Guglielmo di Auxerre. <em>Summa Aurea</em> <em>(1215-1220ca)</em>.</p>
<p>H&auml;ring, Bernhard. &ldquo;La legge di Cristo: trattato di teologia morale.&rdquo; <em>Teologia morale generale</em>. Vol. I. Brescia, 1957.</p>
<p>Jan, Dohnalik.&nbsp;<em>Il precetto pasquale: la normativa sulla Comunione e la confessione annuale (cann. </em><em>920 e 989) alla luce della tradizione canonica</em>. Vol. 100. Gregorian Biblical BookShop. Roma,2015.</p>
<p>Kurtscheid, Bertrand. <em>A History of the Seal of Confession</em>. St. Louis-London, 1927.</p>
<p>Laymann, Paul. <em>Theologia moralis</em>. Vol. 2. Bortoli, 1714.</p>
<p>Leo Magnus. <em>Epistolae</em>. 168 en <em>PL</em>.</p>
</div>
<p>Liguori, Alfonso Mar&iacute;a. <em>Theologia moralis</em>. Bassani, 1837.</p>
<p>Mayer, Agostino. &ldquo;Penitenza.&rdquo; <em>Enciclopedia Cattolica</em>. Vol. IX. Ciudad del Vaticano, 1952.</p>
<p>Michiels, Gommarus. <em>De delictis et poenis: commentarius libri V Codicis Iuris canonici</em>. Vol. III. Paris, 1961.</p>
<p>Milani, Daniela. <em>Segreto, libert&agrave; religiosa e autonomia confessionale: la protezione delle comunicazioni tra ministro di culto e fedele</em>. Lugano, 2008.</p>
<p>Miragoli, Egidio. "Il confessore, giudice e medico." <em>Quaderni di diritto ecclesiale 4</em> (1995): 398-411.</p>
<p>Montini, Gian Paolo. &ldquo;La tutela penale del sacramento della penitenza. I delitti nella celebrazione del sacramento.<em>&rdquo; Le sanzioni penali nella Chiesa</em>. Milano, 1997.</p>
<p>Nemo-Pekelman, Capucine. "Scandale et v&eacute;rit&eacute; dans la doctrine canonique m&eacute;di&eacute;vale (XII e-XIII e si&egrave;cles)." <em>Revue historique de droit fran&ccedil;ais et &eacute;trange. </em>Vol. 85. (2007): 491-504.</p>
<p>Nykiel, Krzysztof. &ldquo;Il sigillo sacramentale nella normativa canonica.&rdquo; <em>Teka Kom. </em><em>Praw. </em>(2014): 81-91.</p>
<p>Paulus Laymann. <em>Theologia moralis, typis Georgii Valentini</em>. Venetiis, 1730.</p>
<p>Petrus Lombardus. <em>Sententiarum libri IV</em>. Paris<em>, </em>1543.</p>
<p>Prosperi, Adriano. "Il sigillo infranto: confessione e inquisizione in Portogallo nel'700." <em>L&rsquo;Inquisizione romana. </em><em>Letture e ricerche</em>. Roma, 2003.</p>
<p>Prosperi, Adriano. &ldquo;Confessione: gli intrecci.&rdquo; <em>Dizionario storico dell&rsquo;Inquisizione</em>. Vol. I. Pisa, 2010.</p>
<p>Prosperi, Adriano. &ldquo;La confessione e il foro della coscienza.&rdquo; <em>Il concilio di Trento e il moderno</em>. Bolo&ntilde;a, 1996</p>
<p>Raimondo da Pe&ntilde;afort. <em>Summa de casibus</em> (1222-1229 ca.).</p>
<p>Romeo, Giovanni. <em>Ricerche su confessione dei peccati e inquisizione nell'Italia del Cinquecento</em>. N&aacute;poles, 1997.</p>
<p>S. Antonius de Padua. <em>Sermones dominicales sive de Tempore</em>. Parisiis, Josse Bade, 1520.</p>
<p>Socini, Mariani. <em>Nova et utilissima commentaria super secunda parte libri quinti Decretalium nuc primum in lucem edita</em>. Parmae, 1574.</p>
<p>Stelling-Michaud, Svein. "Jean le Teutonique."<em> Dictionnaire de droit canonique (hereafter cited as DDC)</em>. ed. R. Naz.Vol. 6. Paris, 1957</p>
<p>Sylvester Prieras, <em>Summa Sylvestrina</em>, venetiis 1593.</p>
<p>Tarantino, Daniela. &ldquo;Il sigillum confessionis: dalla tutela dell&rsquo;intimit&agrave; alla realizzazione della metanoia.&rdquo; <em>Diritto e religioni</em> 2 (2016).</p>
<p>Tertullianus. <em>De poenitentia, en Patrologia latina</em> (de ahora en adelante PL). ed. Migne, J. P. Vol. I. Paris, 1844-1855.</p>
<p>Ulianich, Boris<em>. Ricerche sulla confessione dei peccati a Napoli tra '500 e '600</em>. N&aacute;poles, 1997.</p>
<p>XIV, Benedictus. <em>De synodo dioecesana libri tredecim</em>. Venetiis, 1775.</p>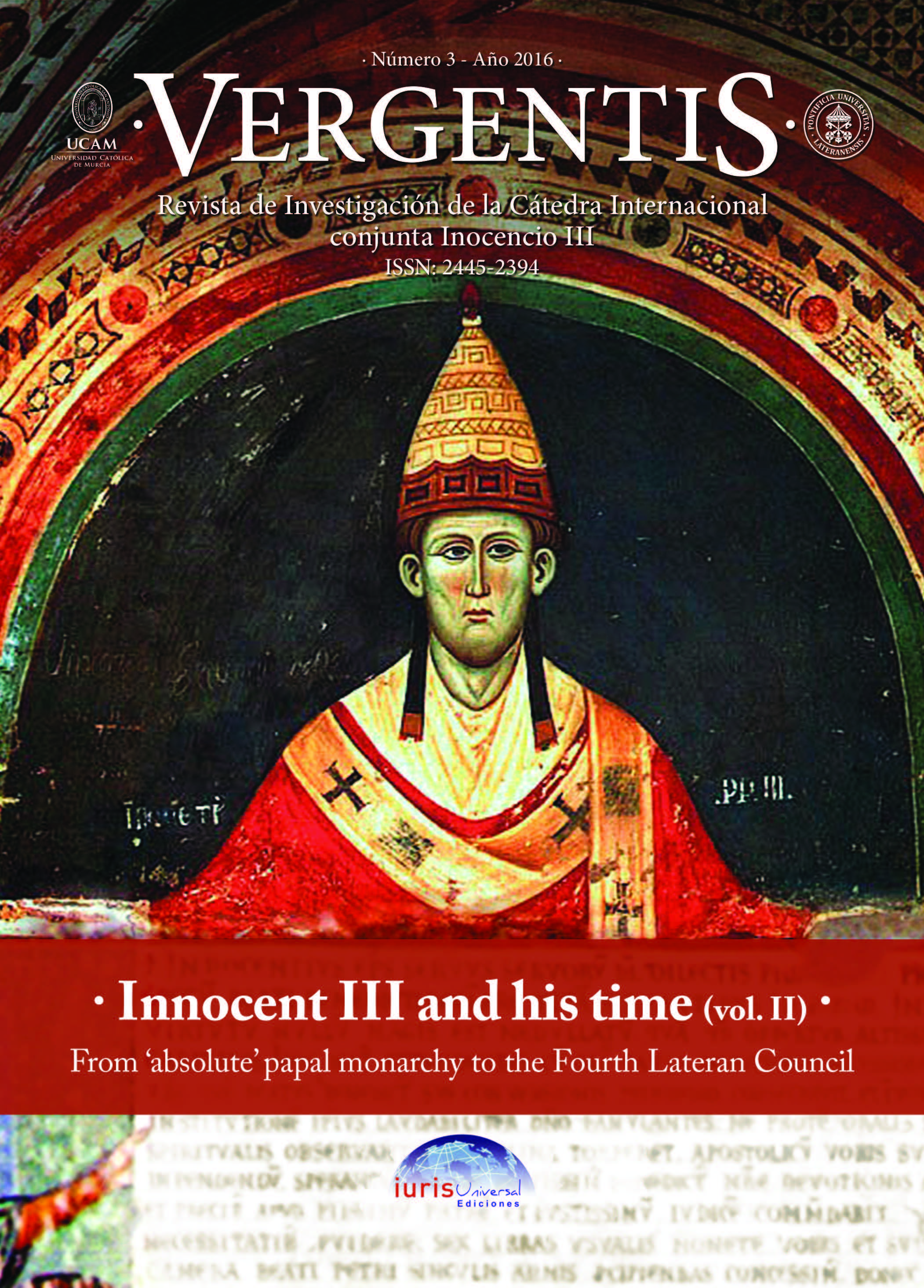 Downloads
How to Cite
Tarantino, D. (2016). Confession and sacramental century in the Fourth Council of Lateran: from the regulations to the doctrinal reflection. Revista De Investigación De La Cátedra Internacional Conjunta Inocencio III, 1(3), 173–192. Retrieved from https://vergentis.ucam.edu/index.php/vergentis/article/view/32
Section
Notes, current status of research and bibliographic review