From the listening to the forgiving. Notes about the role of the confessor as a curatus medicus animarum in the Canonical regulations and in the doctrinal reflection
Keywords:
Confession, Doctor, Healing
Abstract
Canons 21 and 22 of the Fourth Lateran Council the XXI stands out as the most important normative especially in the sacramental discipline about confession and the munus of the sacerdos as curatus medicus animarum. Given a brief excursus on the confession's history, we will try to understand the impact of the Innocentian legislation on doctrinal reflection and the development of the following regulation on the subject between the Middle Ages and the modern age.
Keywords: Confession; Doctor; Healing.
References
<div>&nbsp;</div>
<div>&nbsp;</div>
<p>Condorelli, Orazio. "Dalla penitenza pubblica alla penitenza privata, tra Occidente Latino e Oriente Bizantino: percorsi e concezioni a confronto." <em>Lex Iustitia Veritas. Per Gaetano Lo Castro. Omaggio degli allievi</em>. Napoli, 2012.</p>
<p>Ferme, Brian.<em> Introduzione alla storia del diritto canonico. I. Il diritto fino al Decretum di Graziano</em>. Roma, 1998.</p>
<p>Grillo, Andrea. "Il Rito della Penitenza e la guarigione dal peccato.La terminologia del IV sacramento e il suo rapporto con l'iniziazione cristiana." <em>Vita monastica</em> 224 (2003): 16-52.</p>
<p>Mazza, Enrico. <em>La celebrazione della penitenza: spiritualit&agrave; e pastorale</em>. <em>EDB</em>. Bologna, 2001.</p>
<p>Miragoli, Egidio. "Il confessore, giudice e medico." <em>Quaderni di diritto ecclesiale</em>&nbsp;4 (1995): 398-411.</p>
<p>Musselli, Luciano. &ldquo;Chiesa e societ&agrave; politica dalla fine del mondo antico alla Renovatio Imperii .&rdquo; <em>La Chiesa e l&rsquo;Europa</em> (2007): 9-22.</p>
<p>Piacenza, Manuel.<em> Il Confessore &ndash; testimone dell&rsquo;amore misericordioso di Dio</em>. <em>Corso per i Confessori</em>. Eslovaquia, 6-8 de septiembre (2016).</p>
<p>Piacenza, Manuel. <em>Uffici e qualit&agrave; del confessore</em>. <em>Corso per i Confessori.</em> Eslovaquia, 6-8 de septiembre (2016).</p>
<p>Rouillard, Philippe, and Carlo Collo.&nbsp;<em>Storia della penitenza dalle origini ai nostri giorni</em>. Queriniana, 1999.</p>
<p>Sorci, Pietro. &ldquo; Il &ldquo;Confessore&rdquo; o Ministro del Sacramento della Penitenza.&rdquo; <em>Rivista di Pastorale Liturgica</em> 281 (2010).</p>
<p>Tarantino, Daniela. "Il sigillum confessionis: dalla tutela dell&rsquo;intimit&agrave; alla realizzazione della metanoia.&rdquo;<em> Diritto e religioni</em> 2 (2016).</p>
<p>Turrini, Miriam.&nbsp;<em>La coscienza e le leggi: Morale e diritto nei testi per la confessione della prima Et&agrave; moderna</em>. Soc. Ed. Il Mulino, 1991.</p>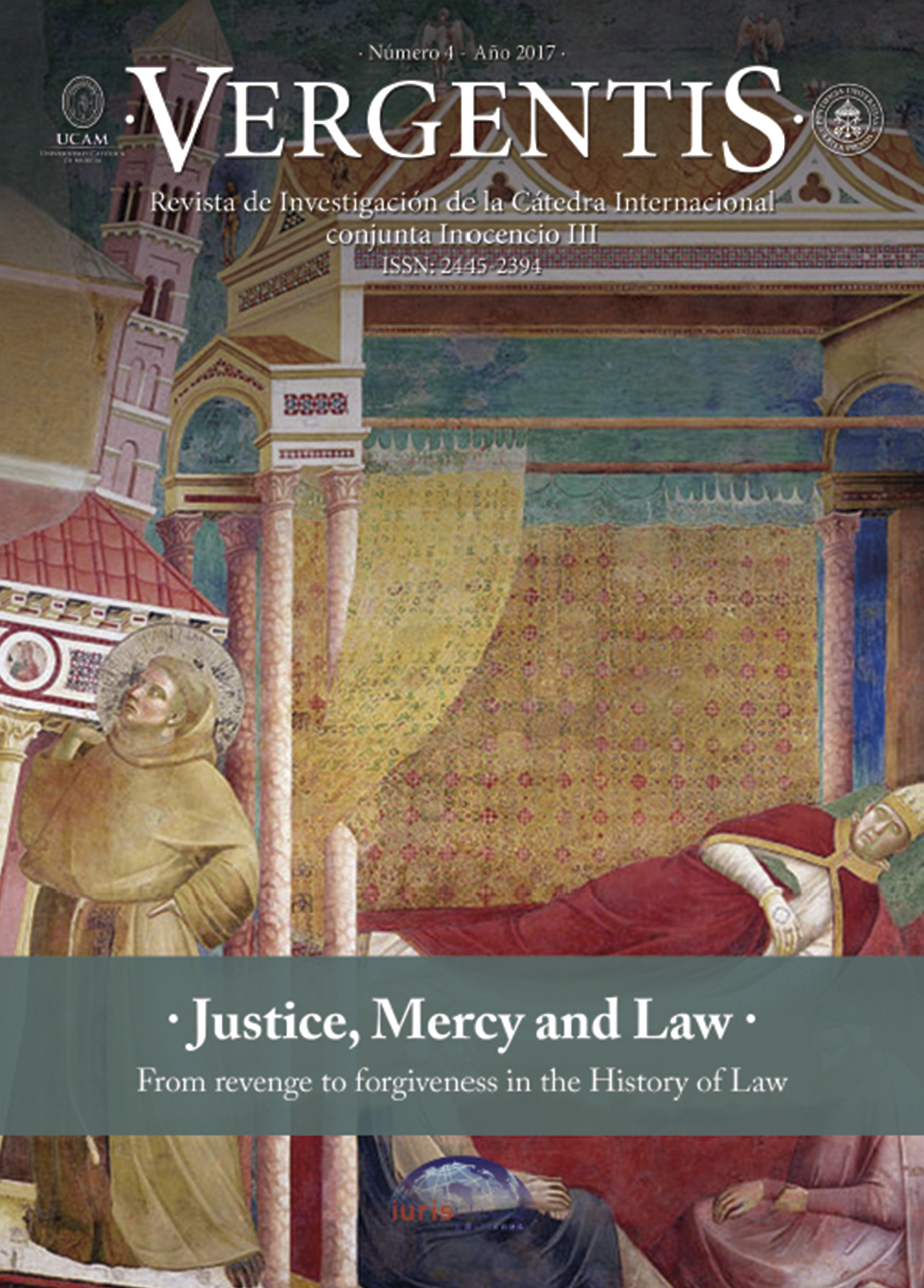 Downloads
How to Cite
Tarantino, D. (2017). From the listening to the forgiving. Notes about the role of the confessor as a curatus medicus animarum in the Canonical regulations and in the doctrinal reflection. Revista De Investigación De La Cátedra Internacional Conjunta Inocencio III, 1(4), 211–231. Retrieved from https://vergentis.ucam.edu/index.php/vergentis/article/view/45
Section
Notes, current status of research and bibliographic review