Oikonomia and divorce in Orthodox Canon Law: the merciful application of the law
Keywords:
divorce, indissolubility, second marriages, Orthodox law, oikonomia
Abstract
Despite the fact that the principles of the unity and indissolubility of the conjugal bond represent constituent and essential properties of the sacrament of marriage in Eastern law, Orthodox theology allows some exceptions due to the schlerocardia of man, permitting the "economic" application of the rule. The paper
aims to outline the ontological essence of oikonomia as a transposition in the human dimension of the redeeming force of the divine condescension. According to tradition, the institution finds its privileged application in marriage; therefore, the intention is to demonstrate that Orthodox ecclesiology tolerates second marriages as the "lesser evil" compared to fornication. This applies both to second marriages of divorcees and widows/widowers, since the sacrament of marriage survives the physical death of the spouse and remains a real image of the Mystery of the Incarnation. The paper will then analyse the circumstances that justify the "economic" interpretation of the precept: the "moral death" of the marriage due to a serious and despicable act, collective good, the worse damage that could derive from the rigid interpretation of the rule (akribeia). Finally, it will seek to demonstrate that the ecclesiastic authority operates in virtue of the potestas clavium and, by imitating the divine mercy, applies oikonomia thus saving human
nature made fragile by the original sin.
Keywords: divorce; indissolubility; second marriages; Orthodox law; oikonomia.
References
<div>
<p>Alivizatos, Amilkas<em>. Marriage and divorce in according with the canon law of the orthodox Church</em>. Londres, 1948.</p>
<p>Altan, Angelo. "Indissolubilit&agrave; ed oikonomia nella teologia e nella disciplina orientale del matrimonio."&nbsp;<em>Studi sul matrimonio. </em>Bolonia, 1968.</p>
<p>Berling&ograve;, Salvatore. <em>La causa pastorale della dispensa</em>. Giuffr&egrave;, 1978.</p>
<p>Bertolino, Rinaldo. <em>Lezioni di diritto canonico</em>. Tur&iacute;n, 2007.</p>
<p>Bertolino, Rinaldo.&nbsp;<em>Matrimonio canonico e bonum coniugum: per una lettura personalistica del matrimonio cristiano</em>. Giappichelli, 1995.</p>
<p>Bonnet, Piero Antonio.&nbsp;<em>L'essenza del matrimonio canonico: Contributo allo studio dell'amore coniugale. 1. Il momento constitutivo del matrimonio</em>. Padova, 1976.</p>
<p>Cereti, Giovanni. <em>Divorzio, nuove nozze e penitenza nella chiesa primitiva 3<sup>a</sup></em>. Zanchini Di Castiglionchio, F. Ed. Roma, 2013.</p>
<p>Chatzimichalis, Nectarios. "Pratique pastorale de l&rsquo;Eglise de Gr&egrave;ce &agrave; l&rsquo;endroit du mariage et du divorce." <em>Revue de droit canonique</em> 17 (1967).</p>
<p>Condorelli, Orazio. "Dalla penitenza pubblica alla penitenza privata, tra Occidente Latino e Oriente Bizantino: percorsi e concezioni a confronto." <em>Lex Iustitia Veritas. Per Gaetano Lo Castro. Omaggio degli allievi</em>. N&aacute;poles (2012): 115-195.</p>
<p>d'Avack, Pietro Agostino. &ldquo;Per una riforma giuridica del matrimonio canonico.&rdquo; <em>Ephemerides Iuris canonici</em> 30 (1974).</p>
<p>Evdokimov, Paul. "La gr&agrave;ce du sacrament du mariage selon la Tradition&nbsp; orthodoxe."&nbsp;<em>Parole et Pain</em>&nbsp;(1969).</p>
<p>Evdokimov, Paul. <em>Sacramento dell&rsquo;amore. Il mistero coniugale secondo la tradizione ortodossa</em><em>. </em>B&eacute;rgamo,1982.</p>
<p>Ferrari, Giuseppe. "Dissoluzione del sacramento nuziale e applicazione della &ldquo;oikonomia&rdquo; per seconde nozze secondo la teologia orientale."&nbsp;<em> Nicolaus, Rivista di teologia ecumenico-patristica</em>&nbsp;5 (1977).</p>
<p>Gaudemet, Jean. <em>Il matrimonio in Occidente. </em>Tur&iacute;n, 1989.</p>
<p>Haring, Bernard. "Internal Forum Solutions to Insoluble Marriage Cases."&nbsp;<em>Jurist</em>&nbsp;30 (1970).</p>
<p>H&auml;ring, Bernhard. &ldquo; Il perdono dopo il fallimento.&rdquo; <em>Famiglia oggi. Documentazione </em>16 (1993): 21-30.</p>
<p>H&auml;ring, Bernhard. &ldquo;The Synod of Bishops on the family. Pastoral reflections.&rdquo; <em>Studia moralia</em>, 19 (1981).</p>
<p>H&auml;ring, Bernhard.&nbsp;<em>Pastorale dei divorziati: una strada senza uscita?</em>. Dehoniane, 1990.</p>
<p>Henrion, Mathieu Richard Auguste. <em>Storia universale della Chiesa dalla predicazione degli apostoli fino al pontificato di Gregorio XVI</em>. <em>Opera compilata per uso dei seminari e del Clero dal Barone Henrion dedicata all&rsquo;Eminentissimo e Reverendissimo Principe Carlo della S.R.C. Cardinal Odescalchi. &nbsp;</em>Vol. IV. Lugano, 1839.</p>
<p>Hoffmann, Paul. "Le Parole di Ges&ugrave; sul divorzio e la loro interpretazione neotestamentaria." <em>Concilium</em> 6.4 (1970).</p>
<p>Joyce, George H.&nbsp;<em>Matrimonio cristiano: studio storico-dottrinale</em>. Alba, 1954.</p>
<p>Kaptun, Astrid. "Matrimonio e divorzio nel diritto delle Chiese Ortodosse." Daimon 2 (2002).</p>
<p>Kotsonis, Jerome. "Fundamental Principles of Orthodox Morality." <em>The Orthodox Ethos: Studies in Orthodoxy</em> 1 (1964).</p>
<p>L&rsquo;Huillier, Pierre. &ldquo;L&rsquo;indissolubilit&eacute; du mariage dans le droit et la pratique orthodoxe.&rdquo; <em>Studia canonica</em> 21 (1987): 239-260.</p>
<p>L&rsquo;Huillier, Pierre. &ldquo;Le divorce selon la th&eacute;ologie et le droit canonique de l&rsquo;&Eacute;glise orthodoxe.&rdquo; <em>Messager de l&rsquo;exarchat du Patriarche russe en Europe Occidentale</em> 65&nbsp; (1965).</p>
<p>L&rsquo;Huillier, Pierre. &rdquo;L&rsquo;espace du principe d&rsquo;&eacute;conomie dans le domaine matrimonial.&rdquo; <em>Revue de droit canonique</em> 28 (1978): 239-260.</p>
<p>Lachner, Gabriele. <em>Die Kirchen und die Wiederheirat Geschiedener</em>. Paderborn-M&uuml;nchen-Wien-Zurich, 1991.</p>
<p>Melia, Elie. "Le lien matrimonial &agrave; la lumi&egrave;re de la th&eacute;ologie sacramentaire et de la th&eacute;ologie morale de l&rsquo;&Eacute;glise orthodoxe."&nbsp;<em>Revue de Droit Canonique 21</em> (1971): 189-190.</p>
<p>Meyendorff, John. "Il matrimonio e l&rsquo;Eucaristia."<em> Russia cristiana</em>&nbsp;(1971): 23-24.</p>
<p>Meyendorff, John. <em>Marriage. An orthodox Perspective. </em>Crestwood (NY), 1984.</p>
<p>Meyendorff, John.&nbsp;<em>Living tradition: Orthodox witness in the contemporary world</em>. St Vladimir's Seminary Press, 1978.</p>
<p>Morini, Enrico. &ldquo;Il matrimonio nella dottrina e nella prassi della Chiesa ortodossa.&ldquo; <em>Memorie Teologiche</em> (2015).</p>
<p>Parlato, Vittorio. "Rigor iuris e misericordia nel matrimonio delle Chiese ortodosse."&nbsp;<em>Stato, Chiese e pluralismo confessionale. </em><em>Revista telem&aacute;tica </em>(<a href="http://www.statoechiese.it"><em>www.statoechiese.it</em></a>) 2 (2016).</p>
<p align="left">Petr&agrave;, Basilio. <em>Divorzio e seconde nozze nella tradizione greca. Un&rsquo;altra via</em>. As&iacute;s, 2014.</p>
<p align="left">Petr&agrave;, Basilio. "Il concetto di &lsquo;economia ecclesiastica&rsquo;nella teologia ortodossa."&nbsp;<em>Rivista di Teologia Morale</em>&nbsp;14 (1982): 507-522.</p>
<p align="left">Prader, Josef. <em>Il matrimonio in Oriente e in Occidente</em>. Roma, 1992.</p>
<p align="left">Prader, Josef.&nbsp;<em>Il matrimonio in Oriente e Occidente</em>. Pontificium Institutum Orientalium Studiorum, 1992.</p>
<p>Privitera, Salvatore. &ldquo;L&rsquo;indissolubilit&agrave; del matrimonio nella chiesa ortodosso-orientale.&rdquo; <em>Nicolaus, Rivista di teologia ecumenico-patristica</em> 11 (1983): 77-114.</p>
<p>Rodopoulos, Panteleimon. &ldquo;Introduction to the topics of the fifth international Congress of the Society for the law of the Oriental Churches. I. Oikonomia.&rdquo; <em>Yearbook of the Society for the law of the Oriental Churches</em> 6 (1983): 15-18.</p>
</div>
<p>Salachas, Dimitri. "Matrimonio e divorzio nel diritto canonico orientale." <em>Nikolaus</em> 5 (1973): 48-68.</p>
<p>Stylianopoulos, Theodore G. &ldquo;Toward a theology of marriage in the orthodox Church.&rdquo; <em>The Greek Orthodox Theological Review</em> (1977).</p>
<p>Trempelas, Panagiōtēs Nikolaou<em>. Dogmatique de l'&Eacute;glise orthodoxe catholique.</em> Par&iacute;s-Brujas, 1968.</p>
<p>Vasil, Cyril. &ldquo;Separazione, divorzio, scioglimento del vincolo matrimoniale e seconde nozze. Approcci teologici e pratici delle Chiese ortodosse.&rdquo; <em>Permanere nella verit&agrave; di Cristo. Matrimonio e comunione nella Chiesa cattolica. </em>Dodaro, R. Ed. Ciudad del Vaticano, 2015.</p>
<p>Ver Hortelano, Antonio. "Problemas actuales de moral, II, La violencia, el amor y la sexualidad." (1982): 623-28.</p>
<p>Vogel, Cyril. "Application du principe de l'Economie en mati&egrave;re de divorce dans le droit canonique oriental."&nbsp;<em>Revue de Droit Canonique Strasbourg</em>&nbsp;32.2 (1982): 81-100.</p>
<p>Yannopoulos, PA. "Il secondo concilio di Nicea (786-787) o Settimo concilio ecumenico."<em> Storia dei concili ecumenici. </em>Alberigo, G. Ed. Brescia&nbsp;(1990): 145-151.</p>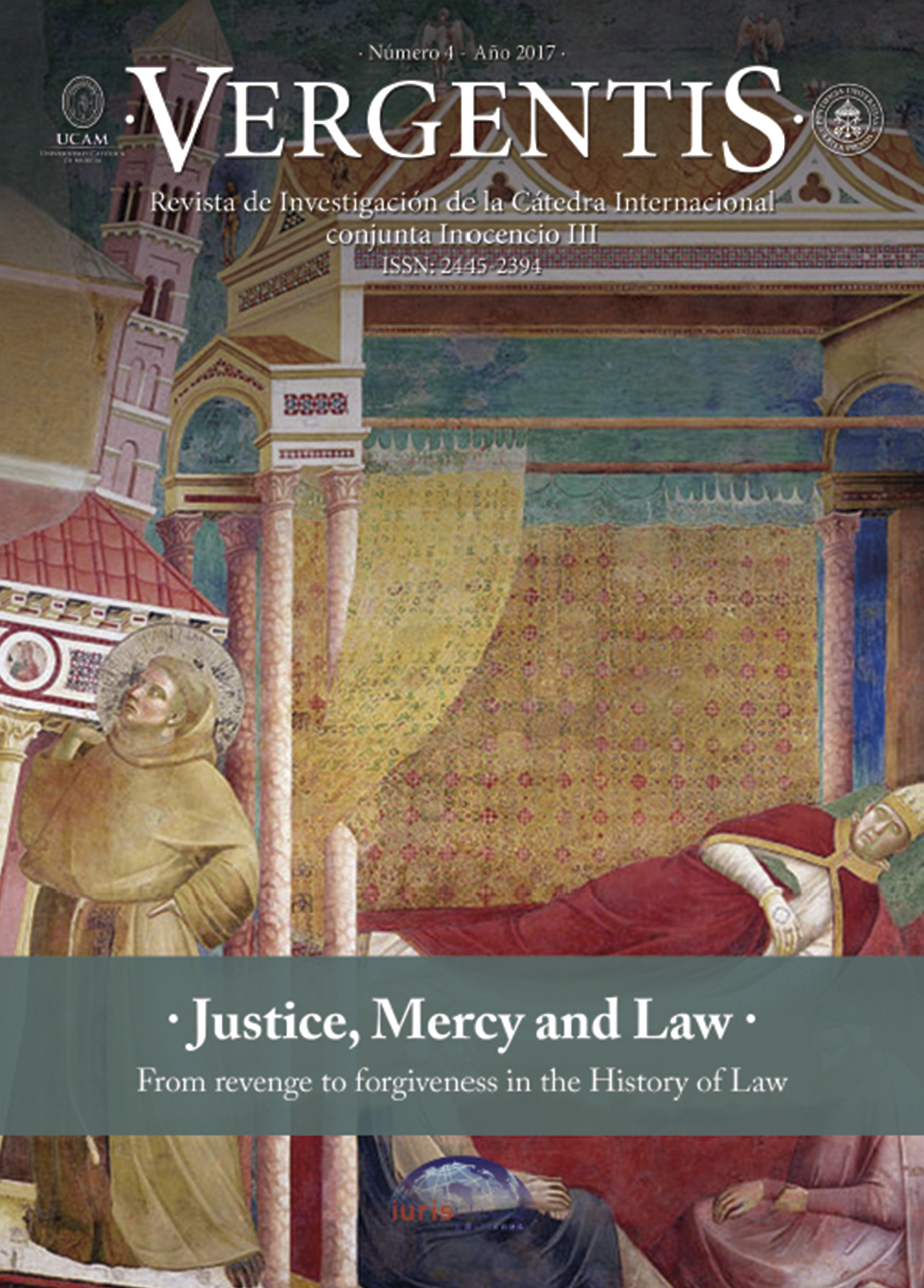 Downloads
How to Cite
Martinelli, E. (2017). Oikonomia and divorce in Orthodox Canon Law: the merciful application of the law. Revista De Investigación De La Cátedra Internacional Conjunta Inocencio III, 1(4), 245–265. Retrieved from https://vergentis.ucam.edu/index.php/vergentis/article/view/47
Section
Notes, current status of research and bibliographic review