Migration, female genital mutilation and refugee status. European strategies between violated bodies and unavoidable rights
Keywords:
femal genital mutilation, FGM, Human right violation, Europe
Abstract
The migration phenomenon is at the heart of European policies. It has caused contrasts due to different cultural and religious traditions. Some practices followed by migrants violate human rights and condemned by the European legislator and the Member States. Among these, particular attention is given to female genital mutilation (FGM) which indicates practices aimed at the partial or total removal of the female genital organs for non-medical reasons. The rituals are performed for social, cultural and religious reasons in the belief that it will benefit girls or women. In truth, no religious text requires female genital mutilation. The practice is carried out on young girl of every age and has harmful effects on health of the victims. FGM is child abuse, is violation of women's human rights and reflects inequality between sexes. They are persecutory acts that allow refugee status to be obtained. The EU is strongly committed to eliminating FGM through strategic prevention actions, legislative measures and welfare services. However, the main way to fight these practices is changing attitudes and beliefs into communities concerned with a comprehensive and integral approach by all the Member States.
Keywords: femal genital mutilation; FGM; Human right violation; Europe.
References
Ammirati, Annapaola. "La proposta di un nuovo Regolamento Dublino: un approccio securitario." Open migration. http://openmigration.org/analisi/la-proposta-di-un-nuovo-regolamento-dublino-un-approccio-securitario/" target="_blank" rel="noopener">http://openmigration.org/analisi/la-proposta-di-un-nuovo-regolamento-dublino-un-approccio-securitario/. Accesso 20 ottobre 2018.
Annicchino, Pasquale. "Persecuzioni religiose e diritto di asilo nella giurisprudenza delle corti sovranazionali europee. Stato, Chiese e pluralismo confessionale." Rivista telematica 35 (2014): 1-13. http://www.statoechiese.it">www.statoechiese.it. Accesso 18 febbraio 2018.
Baumann, Gerd. L'enigma multiculturale. Stati, etnie, religioni. Il Mulino, 2003.
Bettin, Giulia. "L'evoluzione storica delle migrazioni in Europa." L'evoluzione storica dei flussi migratori in Europa e in Italia (2014): 6-10.
Cataldi, Giuseppe, et al. Il diritto di asilo in Europa. L'Orientale University Press, 2014.
Cellamare, Giovanni. "Il rischio di essere perseguitato per motivi religiosi può giustificare l'attribuzione dello status di rifugiato." Guida al diritto. Vol. 41. (2012): 94-96.
Chebel, Malek. La circoncisione dalle origini ai giorni nostri. De Martinis, 1993.
Cherubini, Francesco. L'asilo dalla Convenzione di Ginevra al diritto dell'Unione europea. Bari, 2012.
Ciminelli, Maria Luisa, "Le ragioni culturali delle mutilazioni genitali femminili: note critiche alla definizione di MGF dell'Oms/Who." La ricerca folcloristica. Vol. 46. (2006): 39-50.
Colaianni, Nicola., "La libertà di credo in Europa alla prova dell'immigrazione e del terrorismo." Atti del convegno internazionale Diritto e libertà di credo in Europa, un cammino difficile. Ferrara 18-19 gennaio 2018 (2018): 314-343.
Dammacco, Gaetano. Diritti umani e fattore religioso nel sistema multiculturale euromediterraneo. Bari, 2000.
Di Iorio, Tiziana. "Segni sul corpo e ferite nell'anima: Manipolazione degli organi genitali dei minori e diritti violati." Stato, Chiese e pluralismo confessionale, Rivista telematica 25 (2016): 1-22.
Di Iorio, Tiziana. "Identità negate. Mutilazioni genitali femminili: la lotta dell'Europa contro una silenziosa violenza." Stato, Chiese e pluralismo confessionale, Rivista telematica 12 (2019): 1-28.
Ferrari, Silvio. "La Corte di Strasburgo e l'articolo 9 della Convenzione europea. Un'analisi quantitativa della giurisprudenza." Diritto e religione in Europa. Rapporto sulla giurisprudenza della Corte europea dei diritti dell'uomo in materia di libertà religiosa. Il Mulino (2012): 27-54.
Fusaschi, Michela. "Modifications génitales féminines en Europe: raison humanitaire et universalismes ethnocentriques." Synergies Italie 10 (2014): 97-114.
Gardino, Adriana. "Democrazia e religione nel sistema della Convenzione europea dei diritti dell'uomo." La coesistenza religiosa: nuova sfida per lo Stato laico. Calabria (2008): 13-22.
Gozzi, Gustavo. "I rifugiati e i richiedenti asilo: un mondo sospeso tra integrazione e criminalizzazione." I confini dei diritti. Antropologia, politiche locali e rifugiati. Bolonia (2010): 61-66.
Grasso, Luigi. "L'asilo costituzionale in Europa: analogie e divergenze di un generalizzato declino." Diritto pubblico comparato ed europeo. Vol. 14. (2012): 1498-1542.
Gunn Jeremy. "Freedom of Religion; UN an European Human Rights Law and Practice." Journal of Law and Religion. Vol. 23. (2008): 763-766.
Lehmann, Julian. "Persecution, Concealment and the Limits of a Human Rights Approach in (European) Asylum Law – The Case of Germany v Y and Z in the Court of Justice of the European Union." International Journal of Refugee Law. Vol. 16. (2014): 65-81.
Lerenzini, Federico. Asilo e diritti umani. L'evoluzione del diritto d'asilo nel diritto internazionale. Milano, 2009.
Lillo, Pasquale. Globalizzazione del diritto e fenomeno religioso. Torino, 2012.
Martin, Marie. "The Global Approach to Migration and Mobility: the state of play." Statewatch Journal. Vol. 22. (2012): 1-7.
Martínez Torrón, Javier. "Limitations on religious freedom in the case law the european Court of human rights." Emory international law review. Vol. 19. (2005): 587-636.
Morgese, Giuseppe. "Gli sviluppi della politica dell'Unione Europea in materia di asilo in base al programma di Stoccolma." Gli Stranieri (2011): 155-166.
Morini, Claudia. "Secularism and Freedom of Religion: The Approach of the European Court of Human Rights." Israel Law Review. Vol. 43. (2010): 611-630.
Munari, Francesco. "Lo status di rifugiato e di richiedente protezione temporanea: la visione europea del diritto di Ginevra." Le garanzie fondamentali dell'immigrato in Europa. Torino (2015): 47-70.
Nuño Gómez, Laura. "La mutilación genital femenina en Europa: el dilema de la triple alteridad." Revista europea de Derechos Fundamentales 29 (2017): 185-204.
Pasquali Cerioli, Jlia. "La tutela della libertà religiosa nella Convenzione Europea dei Diritti dell'Uomo." Stato, Chiese e pluralismo confessionale, Rivista telematica 1 (2011): 1-20.
Pasquinelli, Carla. "Donne africane in Italia. Mutilazioni dei genitali femminili, identità di genere e appartenenza etnica." Questione giustizia. Vol. 3. (2001): 487-501.
Pérez Vaquero, Carlos. "Las mutilaciones genitales femeninas en la Unión Europea." Derecho y cambio social 8 (2011): 1-17.
Pizzolante, Giuseppina. Diritto di asilo e nuove esigenze di protezione internazionale nell'Unione europea. Bari, 2012.
Recchi, Ettore. "From migrants to movers: citizenship and mobility in the European Union." The human face of global mobility (2006): 53-80.
Reid, Karevol. A practitioner's guide to the European Convention on Human Rights. London, 2012.
Reisel, Dan e Creighton, Sara. "Long term health consequences of female genital mutilation (FGM)." Maturitas (2015): 48-51.
Ricca, Mario. Culture interdette: Modernità, migrazione diritto interculturale. Bari, 2013.
Villani, Ugo. Dalla Dichiarazione universale alla Convenzione europea dei diritti dell'uomo. Bari, 2012.
https://www.hindawi.com/26180629/">Klein, Elliot, et al. "Female Genital Mutilation: Health Consequences and Complications: A Short Literature Review."  Obstetrics and Ginecology International (2018): 1-7.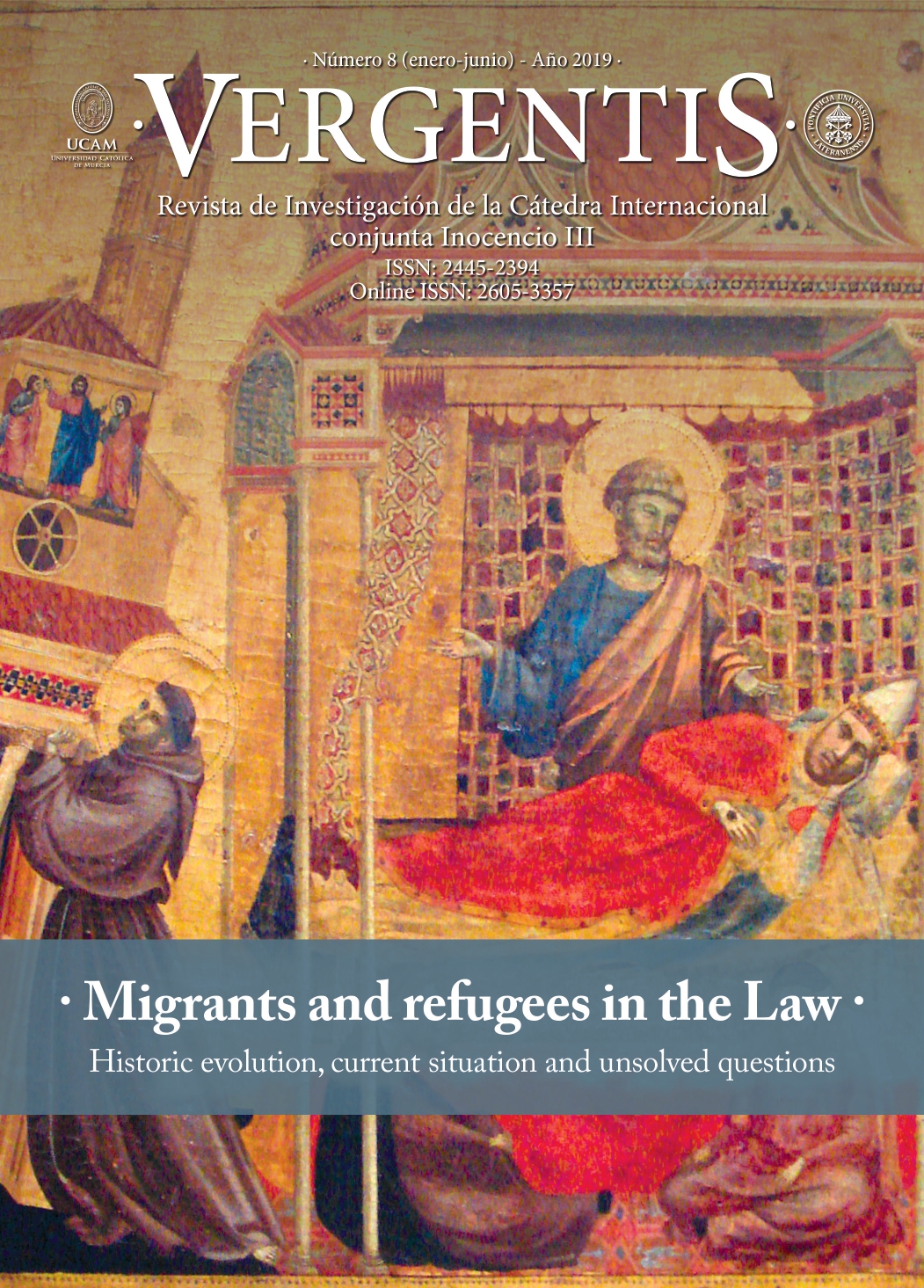 Downloads
How to Cite
Di Iorio, T. (2019). Migration, female genital mutilation and refugee status. European strategies between violated bodies and unavoidable rights. Revista De Investigación De La Cátedra Internacional Conjunta Inocencio III, 1(8), 75–110. Retrieved from https://vergentis.ucam.edu/index.php/vergentis/article/view/114