The historical-legal evolution of the status of subject of law, citizenship and the substantive concept of person.
Abstract
The analysis of the concept of the subject of law and the concept of citizenship presuposes a historical-legal excursus that allows us to understand the birth of two statuses that inevitably refer to the vital concept of person, thus allowing us to understand the transformations to which they have been subjected, from their begonnongs to the present day, trying to observe their impact on the European panorama. The law, created by man and constituted ad hoc in its function, is regulated whithin it by human rights, with the Universal Declaration of Human rights of 10 December 1948, defined as human goods, which, guaranteed by law, allow personal fulfillment and recognize the protection of the human person.
References
Allué Buiza, Alfredo. "La adhesión de la Unión Europea al Convenio Europeo de Derechos Humanos: un proceso complejo de difícil resolución." Revista de Derecho de la Unión Europea 29 (2015): 33-54.
Arias Reyero, Maximino. "La Doctrina Trinitaria de San Agustín." Teología y vida 30.4 (1989): 249-270.
Becchi, Paolo. Il principio dignità umana. Brescia, 2013.
Belmonte, Miguel Angel. "Los antecedentes remotos: prosopon en la literatura griega." Espíritu 139 (2010): 195- 205.
Biondi, Biondo. Istituzioni di diritto romano. Milano, 1972.
Bizzarri, Dina. "Ricerche sul diritto di cittadinanza nella costituzione comunale." Studi di storia del diritto italiano. Torino (1937): 63-65.
Buriticá Zuluaga, Diego A. "El concepto de persona humana en la tradición cristiana y su progresión hasta el personalismo." Cuestiones Teológicas 41(2014): 467-493.
Castillo Córdova, Luis. "Los Derechos Humanos: la persona como inicio y como fin del derecho." Foro Jurídico: revista de derecho 7 (2007): 27-34.
Cipriani, Nello. "Il mistero trinitario nei Padri." PATH 1(2003): 47-70.
Cortese, Ennio. "Cittadinanza (diritto intermedio)." Enc. dir. 7. Milano (1960): 132-133.
De Castro y Bravo, Federico. "La nationalitè, la double nationalité et la supra-ntionalité." Recueli des Cours de l'Académie de La Haye 102 (1961) : 521-527.
De Castro y Bravo, Federico. "Los estudios històricos sobre la nacionalidad." Revista española derecho internacional (1955): 218-220.
De Lapradelle, A., De la nationalitè d'origine, Paris, 1893, p. 5 e ss.
De Los Reyes, Alberto Oheling. "El concepto constitucional de la dignidad de la persona: Forma de comprensión y modelos predominantes de recepción en la Europa continental." Revista española de derecho constitucional 91 (2011): 135-178.
De Luque, Luis A. "Los derechos fundamentales en el proceso de integración europea." Cuadernos de derecho público 18 (2003): 173-190.
Draetta, Ugo. Elementi di diritto dell'Unione Europea. Milano, 2010.
Fernández Sessarego, Carlos. "Que es ser Persona para el Derecho." Derecho PUCP 54 (2001): 289-333.
Gembillo, Giuseppe. Filosofia e scienze: studi in onore di Girolamo Cotroneo. Soveria Mannelli, 2005.
Guzzetta, Giovanni, e Marini, Francesco S. Diritto Pubblico Italiano ed Europeo. Torino, 2018.
Heller, Antonio, Yvars, Jose Francisco, y Moya, Agnes P. El hombre del Renacimiento. Barcelona, 1980.
Hobbes, Thomas, and Sánchez Sarto. Leviatán, o, La materia, forma y poder de una república eclesiástica y civil. Ciudad de México, 2017.
Iammarrone, Luigi. "Persona in Teologia." Divus Thomas, 89/90 (1986): 383-400.
Locke, John. Ensayo sobre el entendimiento humano. México, 1992.
Marini, Sergio. Dalla Persona Alla…Persona. Milano, 2008.
Marshall, Thomas H. "Citizenship and Social Class." Class, Citizenship and Social Development. Chicago, 1964.
Marsili, Marco. "The protection of human rights and fundamental freedoms at the origins of the European integration process." Europea 5.1 (2018): 191-203.
Martines, Temistocle. Diritto costituzionale. Milano, 2010.
Moreschini, Claudio. "Oltre l'Antico La svolta antropologica di Agostino e la definizione boeziana di persona." Homo, caput, persona La costruzione giuridica dell'identità nell'esperienza romana. Pavia (2010): 91-112.
Occhiocupo, Nicola. Costituzione e Corte Costituzionale. Percorsi di un rapporto "genetico "dinamico e indissolubile. Milano, 2010.
Pasquino, Gianfranco. "L'Unione Europea e le persone." Enciclopedia italiana (2018): 233-234.
Phillipson, Coleman. The international law and custom of ancient Greece and Rome. London, 1911.
Pikaza, Xabier. Enquiridion trinitatis: textos básicos sobre el Dios de los cristianos. Salamanca, 2005.
Pizzorni, Reginaldo. Diritto naturale e diritto positivo in S. Tommaso d'Aquino. Bologna, 1999.
Quintero, Ruth Martinón. "Los derechos humanos en la Unión Europea. En especial, el problema de la adhesión de la Unión al Convenio Europeo de Derechos Humanos." Revista europea de derechos fundamentales 28 (2016): 49-71.
Recaséns Siches, Luis. Introducción al estudio del Derecho. México, 1997.
Rodotà, Stefano, and Tallacchini, Mariachara. Ambito e fonti del biodiritto. Milano, 2010.
Rolla, Giancarlo. "El principio de la dignidad humana. Del artículo 10 de la constitución española al nuevo constitucionalismo iberoamericano." Persona y Derecho 49 (2003): 227-261.
Romanelli Grimaldi, Carla. "voce Cittadinanza." Enciclopedia giuridica 6. Roma, 1988.
Rossi, Pellegrino. Trattato di diritto penale. Napoli, 1853.
Talciani, Hernán C. "Concepto Jurídico de Persona-Una Propuesta de Reconstrucción Unitaria." Revista Chilena de Derecho 17 (1990): 301- 321.
Viola, Francesco. "El estatuto jurídico de la persona en perspectiva histórica." Derecho y Cambio Social 12.40 (2015):1-3.
Von Martiz, Ferdinand. Internationale Rechtshilfe in Strafsachen. Leipzig, 1888.
Wiesnet, Eugen. Pena e retribuzione: La riconciliazione tradita. Milano, 1987.
Zolo, Danilo. La cittadinanza. Appartenenza, identità, diritti. Roma, 1999.
Zoltán, Bara. "Comprensione di persona e concezioni della Trinità nel Medioevo." Studia Universitatis Babes-Bolayai- Theologia Catholica Latina 2 (2007): 37-50.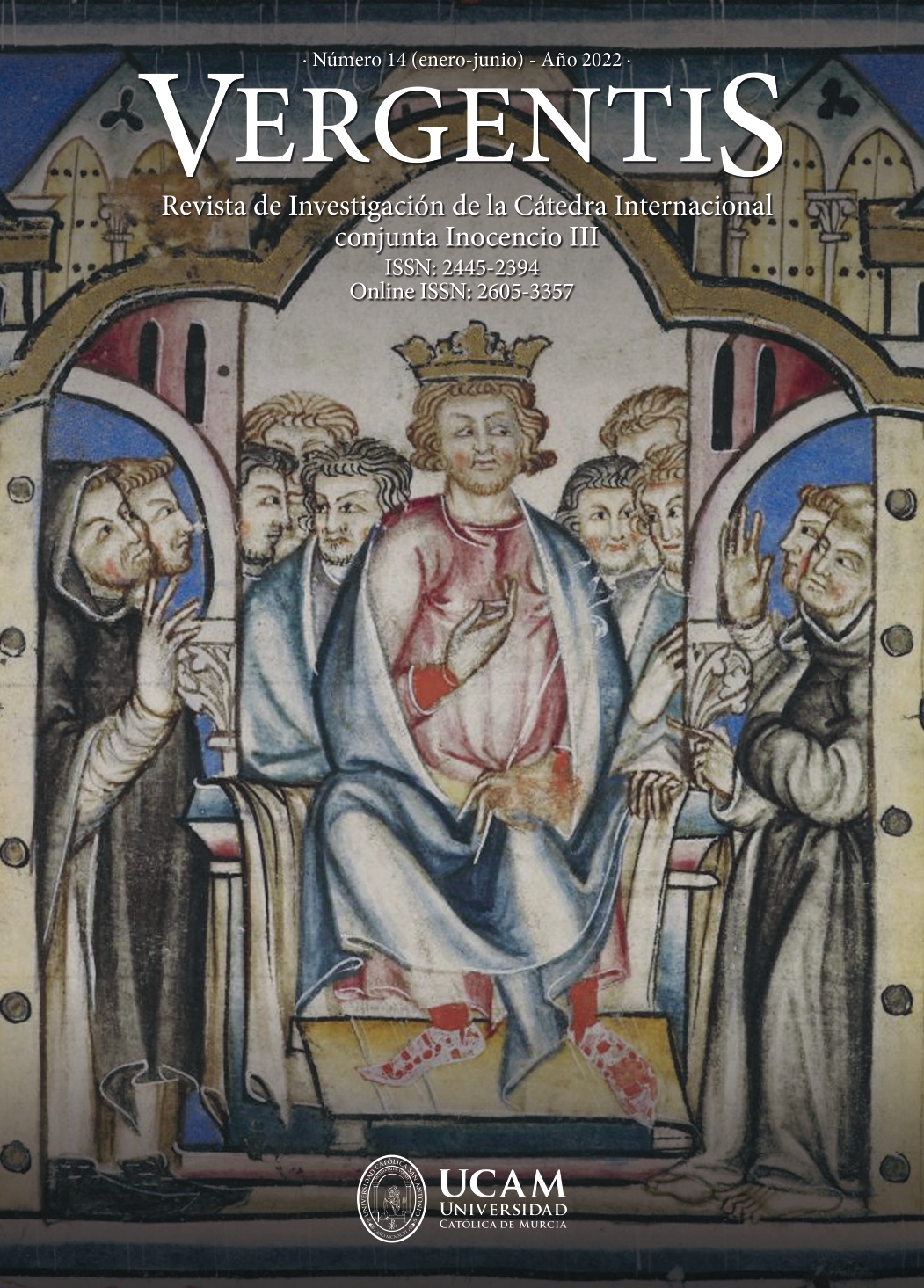 Downloads
How to Cite
Di Nitto, C., Giner Alegría, C. A., & Caballero Salinas, J. M. (2022). The historical-legal evolution of the status of subject of law, citizenship and the substantive concept of person . Revista De Investigación De La Cátedra Internacional Conjunta Inocencio III, (14), 135–162. Retrieved from https://vergentis.ucam.edu/index.php/vergentis/article/view/258
License
Copyright (c) 2022 Claudia Di Nitto, Cesar A. Giner Alegría, José María Caballero Salinas
This work is licensed under a Creative Commons Attribution-NonCommercial-NoDerivatives 4.0 International License.