Reforms to the canonical procedural law proposed by the Spanish metropolitans at the beginning of the canonical codification of 1917
Keywords:
Canon Law, Code of Canon Law 1917, postulata episcoporum, spanish bishops, spanish metropolitans, proceedings
Abstract
The drafting of the first Code of Canon Law of the Latin Catholic Church was ordered by Pope Saint Pius X in 1904. The code was not made by a close group of experts, but considered the opinion of the whole episcopate. Such an opinion was consulted in two different moments. In both, the opinion of Spanish bishops was asked. The contribution of Spanish metropolitans to the first query in 1904, in reference to canonical proceedings is studied in this work. The documentation was obtained from the Vatican Secret Archives.
Keywords: Canon law; Code of Canon Law 1917; Spanish bishops; Spanish Metropolitans; postulata episcoporum; proceedings.
References
<p>Alonso Lobo, Arturo. &ldquo;sub cc. 118-123.&rdquo; <em>Comentarios al C&oacute;digo de Derecho Can&oacute;nico</em>. Vol. I. Eds. Cabreros de Anta, M., Alonso Lobo, A., and Alonso Mor&aacute;n, S. Madrid (1963): 406-408.</p>
<p>Cabreros de Anta, Marcelino. &ldquo;sub cc. 1556-1568.&rdquo; <em>Comentarios al C&oacute;digo de Derecho Can&oacute;nico</em>. Vol. III.&nbsp; Eds. Alonso Mor&aacute;n, S., and Cabreros de Anta, M. Madrid (1964): 223-224.</p>
<p>Conte a Coronata, Matteo. <em>Institutiones iuris canonici ad usum utruisque cleri et scholarum</em>, III: <em>De procesibus</em>. Torino, 1941.</p>
<p>Claeys Bouuaert, Fernand. &Prime;Cure.&Prime; <em>Dictionnaire de Droit Canonique</em>. Vol. IV. Ed. Naz, R. Paris, 1949.</p>
<p>Fantappi&egrave;, Carlo. <em>Chiesa romana e modernit&agrave; giuridica, I: L&rsquo;edificazione del sistema canonistico (1563-1903); II: Il Codex Iuris Canonici (1917)</em>. Milano, 2008.</p>
<p>Ferreres, Juan B. <em>Instituciones can&oacute;nicas con arreglo al nov&iacute;simo c&oacute;digo de Pio X promulgado por Benedicto XV y a las prescripciones de la disciplina espa&ntilde;ola</em>. Barcelona, 1917.</p>
<p>Garc&iacute;a Barberena, Tom&aacute;s. &ldquo;sub cc. 2215-2219.&rdquo; <em>Comentarios al C&oacute;digo de Derecho Can&oacute;nico</em>. Vol. IV. Ed. Garc&iacute;a Barberena, T. Madrid, 1964.</p>
<p>Llobell, Joaquin, De Le&oacute;n, Enrique, and Navarrete, Jes&uacute;s. <em>Il libro &ldquo;De processibus&rdquo; nella codificazione del 1917. Studi e documenti</em>. Vol. I. Milano, 1999.</p>
<p>Manresa y Navarro, Jos&eacute; Mar&iacute;a. <em>Comentarios a la ley de enjuiciamiento civil reformada conforme a las bases aprobadas por la ley de 21 de junio de 1860</em>. Vol. II. Madrid, 1952.</p>
<p>Motilla, Agust&iacute;n. &ldquo;La idea de codificaci&oacute;n en el proceso de formaci&oacute;n del Codex de 1917.&rdquo; <em>Ius</em> <em>Canonicum</em> 28/56 (1988): 684-685.</p>
<p>Roberti, Francesco. <em>De processibus</em>. Roma, 1941.</p>
<p>Salinas Araneda, Carlos. &ldquo;La codificaci&oacute;n del derecho can&oacute;nico de 1917.&rdquo; <em>Revista de Derecho de la Pontificia Universidad Cat&oacute;l</em><em>ica de Valpara&iacute;so</em> 30 (2008): 311-356.</p>
<p>Vetulani, Adam. &Prime;Codex Juris Canonici.<em>&Prime;</em> <em>Dictionnaire de Droit Canonique</em>. Vol. III. Ed. Naz, R. Paris, 1942.</p>
<p>&nbsp;</p>
<p>&nbsp;</p>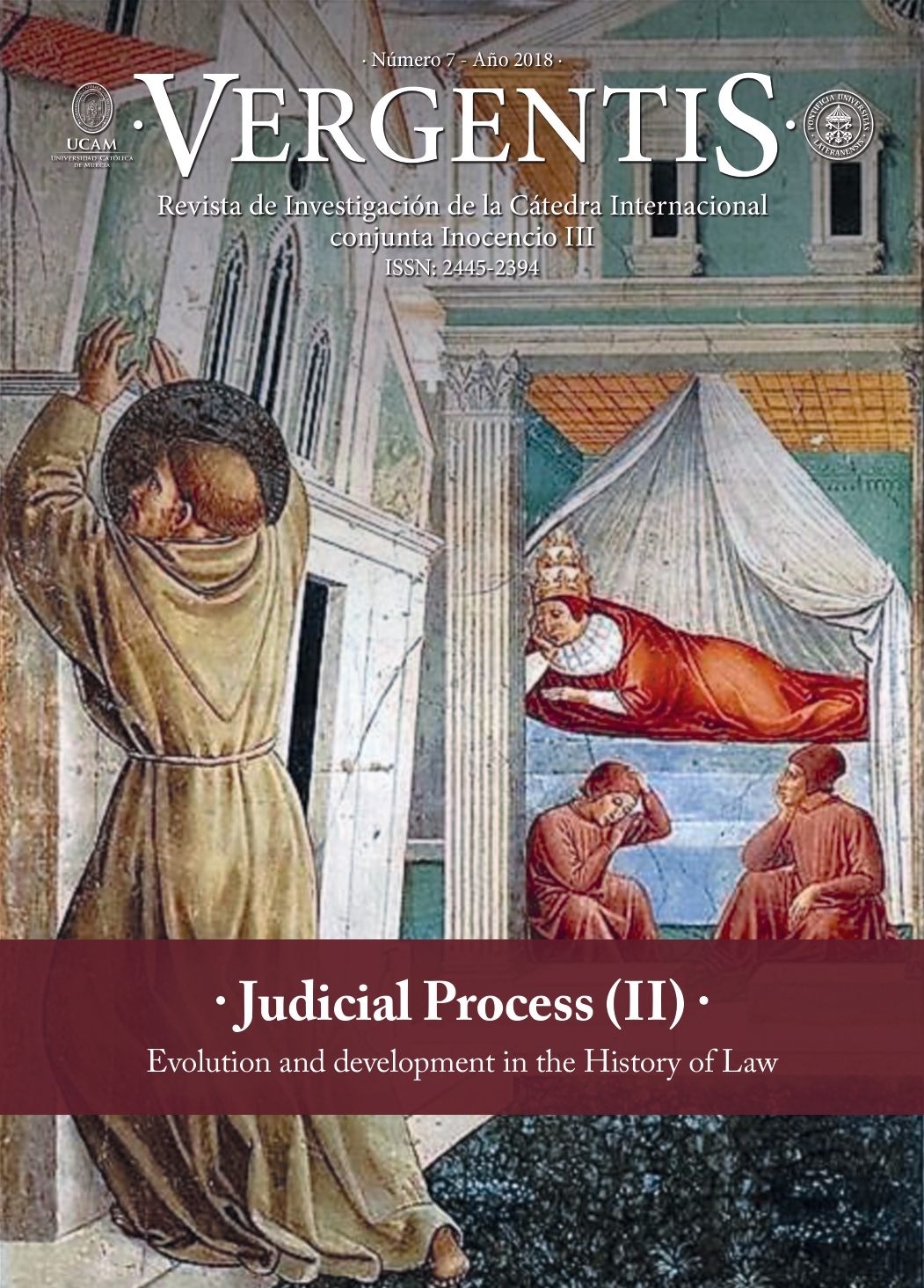 Downloads
How to Cite
Salinas Araneda, C. R. (2018). Reforms to the canonical procedural law proposed by the Spanish metropolitans at the beginning of the canonical codification of 1917. Revista De Investigación De La Cátedra Internacional Conjunta Inocencio III, 1(7), 45–94. Retrieved from https://vergentis.ucam.edu/index.php/vergentis/article/view/86