The concept of iustitia for the Roman jurists
Keywords:
Iustitia, Cicerón, Ulpiano, Gallo, aequitas, voluntas
Abstract
The iustitia has been, since the beginning, a vast field of study, in particular for the jurists that belong to the Roman tradition, like Ulpian and Cicerone. They had already understood that this concept hovered around two main ideas: the justice understood in the contexts of will and in the human moral sphere. The search for justice must not be seen as something archaic or obsolete, but as something that nourishes the same science of law.
Keywords: Iustitia; Cicerone; Ulpiano; Gallo; Aequitas; voluntas.
References
<p>Achard, Guy. "Bellum iustum, bellum sceleratum sous les rois et sous la R&eacute;publique."&nbsp;<em>Bulletin of Latin Studies</em>&nbsp;24.2 (1994): 474-486.</p>
<p>Albert, Sigrid.&nbsp;<em>Bellum iustum: die Theorie des" gerechten Krieges" und ihre Bedeutung f&uuml;r die ausw&auml;rten Auseinandersetzungen Roms in republikanischer Zeit</em>. Vol. 10. Lassleben, 1980.</p>
<p>Astolfi, Riccardo.&nbsp;<em>Il matrimonio nel diritto romano classico</em>. Cedam, 2006.</p>
<p>Biscardi, Arnaldo. &ldquo;Riflessioni minime sul conceptto di aequitas.&ldquo; <em>Studi Donatuti</em>.</p>
<p>Burdese, Alberto. &ldquo;Sul concetto di giustizia nel diritto romano.&rdquo; <em>ASD 14-17</em> (1973): 103-119.</p>
<p>Calore, Antonello. "Bellum iustum tra etica e diritto."<em> Studi Labruna </em>I. Napoli, 2017.</p>
<p>Calore, Antonello.<em> Forme giuridiche del" bellum iustum": corso di diritto romano-Brescia-aa 2003-2004</em>. Mil&aacute;n: Giuffr&eacute;(2003).</p>
<p>Carcaterra, Antonio.&nbsp;<em>Iustitia nelle fonti e nella storia del diritto romano</em>. Roma, 1950.</p>
<p>Cerami, Pietro. <em>"Ordo legum" e" iustitia" in Claudio Trifonino</em>. 1988.</p>
<p>Ciccotti, Ettore.&nbsp;<em>La guerra e la pace nel mondo antico</em>. Roma,1971.</p>
<p>Corbino, Alessandro. "ius suum cuique tribuere. osservazioni minime sulla definizione ulpinianea di iustitia (d. 1.1. 10 pr.-2 e rhet. ad her. 3.2. 3)."&nbsp;<em>Homenaje al profesor Armando Torrent</em>. Dykinson. Madrid, 2016.</p>
<p>Corbino, Alessandro. <em>Diritto privato roman</em>o. Padova, 2014</p>
<p>Diesselhorst, Malte.&nbsp;&ldquo;Die Gerechtigkeitsdefinition Ulpians in D. 1.1, 10 pr. und die Praecepta iuris nach D. 1, 1, 10, 1 sowie ihre Rezeption bei Leibniz und Kant.&ldquo;<em> R&ouml;misches Recht in die europ&auml;isches Tradition. Symposion Wieacker. </em>Ebelsbach<em>,</em> 1985.</p>
<p>d'Ors, &Aacute;lvaro.&nbsp;&ldquo;Aspectos objetivos y subjetivos del concepto de ius.&ldquo; <em>Studi in memoria di Emilio Albertario </em>II. Milano (1953): 277-299.</p>
<p>Drexler, Hans. "Iustum bellum."&nbsp;<em>Politische Grundbegriffe der R&ouml;mer.</em> Darmstadt<em>, </em>1988.</p>
<p>Falcone, Giuseppe. "Genesi e valore della definizione di synallagma nella Parafrasi di Teofilo."&nbsp; <em>Studi Talamanca</em>.</p>
<p>Falcone, Giuseppe. "Il metodo di compilazione delle Istituzioni di Giustiniano."<em> AUPA 45</em> (1998).</p>
<p>Falcone, Giuseppe. "Iuris praecepta, vera philosophia, iuris prudentia."<em> SDHI </em>73 (2007): 353-387.</p>
<p>Falcone, Giuseppe. "Un&acute;ipotesi sulla nozione ulpianea di ius publicum." <em>Tradiz. romanist. e Cost</em> (2006): 1167-1195.</p>
<p>Farrington, Benjamin. "Ciencia y pol&iacute;tica en el mundo antiguo." Madrid, 1965.</p>
<p>Fass&ograve;, Guido. "Storia della filosofia del diritto." Bologna,1966.</p>
<p>Frezza. &ldquo;La persona di Ulpiano.&rdquo; <em>SDHI</em> 49 (1933).</p>
<p>Gallo, Filippo. "Fondamenti romanistici del diritto europeo: a prop&oacute;sito del ruolo della scienza giuridica.&rdquo; <em>Tradizione romanistica e Costituzione </em>II. Baccari, M. P. &amp; Cascione, C . Eds. Napoli, 2006.</p>
<p>Gallo, Filippo. "La &ldquo;verit&agrave;&rdquo; valore sotteso alla definizione celsina del diritto.&rdquo; <em>Valori e principio del diritto romano. Atti Silvio Romano. </em>Trisciuoglio, A. Ed. Torino, 2009.</p>
<p>Gallo, Filippo. "La definizione celsina del diritto nel sistema giustinianeo e la sua successiva rimozione dalla scienza giuridica: conseguenze persistenti in concezioni e dottrine del presente.<em>&rdquo; TSDP</em> 3 (2010).</p>
<p>Gallo, Filippo. &ldquo;L&rsquo;interpretazione del diritto &egrave; affabulazione?.&rdquo; <em>RDR </em>3 (2003).</p>
<p>Gallo, Filippo. <em>Carattere ideologico della soggezione del giudice alla legge</em>. Torino, 2014.</p>
<p>Gallo, Filippo.<em> Celso e Kelsen. Per la rifondazione della scienza giuridica</em>. Torino, 2010.</p>
<p>Gallo, Filippo. <em>Opuscula selecta</em>. Vago di Lavagno:Verona, 1999.</p>
<p>Gioffredi, Carlo. "Osservazioni sul problema del diritto soggettivo nel Diritto romano." <em>Bullettino dell'Istituto di Diritto Romano" Vittorio Scialoja</em>" 9 (1967): 227-238.</p>
<p>Goria, Fausto. "La definizione del diritto di Celso nelle fonti giuridiche greche." <em>Aequitas. Giornate in mem</em>. Paolo Silli. Santucci, G. Ed. Padova (2006): 275-306.</p>
<p>Guarino, Antonio. <em>Diritto privato romano</em>. Napoli, 2001.</p>
<p>Guarino, Antonio. &ldquo;Equita: diritto romano.&ldquo; <em>NNDI</em>. Napoli, 1994.</p>
<p>Ilari, Virgilio. <em>L'interpretazione storica del diritto di guerra romano fra tradizione romanistica e giusnaturalismo</em>. Vol.57. Milano,1981.</p>
<p>Kaser, Max. "Zum Ius-Bergriff Der Romer."&nbsp;<em>Acta juridica</em>&nbsp;(1977): 63-78.</p>
<p>Klami, Hannu Tapani. <em>Sacerdotes iustitiae": rechtstheoretische und historisch-methodologische Bemerkungen &uuml;ber die Entstehung des r&ouml;mischen" Rechtspositivismus</em>. Turun yliopisto, 1978.</p>
<p>Loreto, Luigi.&nbsp;<em>Il bellum iustum ei suoi equivoci: Cicerone ed una componente della rappresentazione romana del V&ouml;lkerrecht antico</em>. Napoli, 2001.</p>
<p>Luraschi, Giorgio. &ldquo;Il'praemium'nell'esperienza giuridica romana.&ldquo; <em>Studi Biscardi </em>IV. Milano (1983): 239-283.</p>
<p>Mantovani, Mauro.&nbsp;<em>Bellum iustum: die Idee des gerechten Krieges in der r&ouml;mischen Kaiserzeit</em>. Berlin, 1990.</p>
<p>Maschi, Carlo Alberto. &ldquo;Certezza del diritto e potere discrezionale del magistrato nel diritto romano.<em>&ldquo; </em><em>Studi Betti </em>3 (1962).</p>
<p>Mercogliano, Felice. <em>La guerra domestica di Pisone.</em> <em>INDEX </em>33. Vol.V. (2005): 3564-3565.</p>
<p>Peppe, Leo. &ldquo;Jedem das Seine &ldquo;(uni)quique wsuum&rdquo; a ciascuno il suo.&ldquo; <em>Tradizione romanistica e Costituzione </em>II. Baccari, M. P. &amp; Cascione, C. Eds. Napoli, 2006.</p>
<p>Pringsheim, Fritz. &ldquo;Ius aequum und ius strictum .&rdquo; <em>ZSS 42</em> (1922): 643-668.</p>
<p>Pringsheim, Fritz. &ldquo;Aequitas und bona fices.&rdquo; <em>Conferenze per il XIV Centenario delle Pandette. </em>Milano, 1931.</p>
<p>Pringsheim, Fritz<em>. Gesammelte Abhandlungen I</em>. Heidelberg, 1961.</p>
<p>Rabello, Alfredo Mordechai. &ldquo;De aequitas and epikeia .&rdquo;<em> Aequitas and equity: equity in civil law and mixed Jurisprudence</em>. Jerusalem, 1997.</p>
<p>Rampazzo, Natale. "Il bellum iustum e le sue cause<em>."&nbsp; INDEX&nbsp;33</em> (2005): 235-261.</p>
<p>Ruiz, Armando Jos&eacute; Torrent. "Actividad bancaria e infaci&oacute;n en &eacute;poca dioclecianea-constantiniana."&nbsp;<em>Iura: rivista internazionale di diritto romano e antico</em>&nbsp;57 (2008): 49-90.</p>
<p>Ruiz, Armando Jos&eacute; Torrent. "Alimenta ingenuorum ingenuarumque: Plin. epist. 7.18. Un caso de aplicaci&oacute;n de la econom&iacute;a al derecho."&nbsp;<em>Index: quaderni camerti di studi romanistici, international survey of roman law</em>&nbsp;43 (2015): 137-152.</p>
<p>Ruiz, Armando Jos&eacute; Torrent. &ldquo; Celso, Kelsen, Gallo e la rifondazione della scienza giuridica&rdquo;. <em>INDEX 40</em> (2012): 537-577.</p>
<p>Ruiz, Armando Jos&eacute; Torrent. &ldquo; Cognitores en la Lex Irnitana caps. 63-65.&rdquo;<em> IVRA 60</em> (2011): 15-45.</p>
<p>Ruiz, Armando Jos&eacute; Torrent. &ldquo;Crimen annonae y mantenimiento del orden p&uacute;blico econ&oacute;mico.&rdquo; <em>El derecho comercial: de Roma al derecho actual </em>II. Las Palmas de Gran Canaria, 2007.</p>
<p>Ruiz, Armando Jos&eacute; Torrent. &ldquo;Financiaci&oacute;n externa de los municipios: lex Irnitana.&rdquo;<em> Rivista di diritto romano </em>X (2010).</p>
<p>Ruiz, Armando Jos&eacute; Torrent. &ldquo;Fraudes contables de societates publicanorum, Cic.&rdquo; <em>IAH 6</em> (2014): 57-76.</p>
<p>Ruiz, Armando Jos&eacute; Torrent. &ldquo;La fractura justinianea en la producci&oacute;n del derecho, la prohibici&oacute;n de comentar el Digesto y su ideolog&iacute;a positivista.&rdquo;<em> SDHI 79</em> (2013): 191-219.</p>
<p>Ruiz, Armando Jos&eacute; Torrent. &rdquo;El binomio capital-trabajo en el pensamiento jurisprudencial cl&aacute;sico: la conventio cum auifice Gayo 3,47) y el fundamento econ&oacute;mico para su calificaci&oacute;n contractual.&rdquo; <em>IAH 6</em> (2014): 37-56.</p>
<p>Ruiz, Armando Jos&eacute; Torrent.<em> El iusnaturalismo racionalista de los siglos XVII y XIII precursor de los c&oacute;digos en la secuencia de fundamentos del derecho europeo</em>. Madrid, 2016.</p>
<p>Ruiz, Armando Jos&eacute; Torrent. <em>Fundamentos del derecho europeo. Coencia del derecho: derecho romano-ius commune-derecho europeo</em>. Madrid, 2007.</p>
<p>Ruiz, Armando Jos&eacute; Torrent. &rdquo;Economia per il diritto.&rdquo; <em>RIDROM </em>3 (2009): 91-154.</p>
<p>Ruiz, Armando Jos&eacute; Torrent. &rdquo;El aparente desinter&eacute;s de la jurisprudencia tardo-republicana por las societates publicanorum.&rdquo; <em>TSDP </em>8 (2015).</p>
<p>Ruiz, Armando Jos&eacute; Torrent. &rdquo;El derecho romano como instrumento para la cr&iacute;tica del derecho positivo.&ldquo; <em>Homenaje Vallet de Goytisolo </em>I. Madrid, 1988.</p>
<p>Ruiz, Armando Jos&eacute; Torrent. &rdquo;La cura annonae en la lex Irnitana cap. 75. Un intento de explicaci&oacute;n en clave econ&oacute;mica del control de los mercados.<em>&rdquo; INDEX 40</em> (2012).</p>
<p>Ruiz, Armando Jos&eacute; Torrent. &rdquo;Moneda, cr&eacute;dito y derecho penal monetario en Roma (siglos IV a. C.- IV d. C.).&rdquo; <em>SDHI 7</em>3 (2007): 111-158.</p>
<p>Ruiz, Armando Jos&eacute; Torrent. &rdquo;Ofilius, libros de iure civil plurimos et qui omnuem partem operis fundarent reliquit.&rdquo; <em>IVRA 64</em> (2016).</p>
<p>Ruiz, Armando Jos&eacute; Torrent. &rdquo;Ofilius, nam de iurisdictione idem edictum praetoris primus diligenter composuit.&rdquo; <em>SDHI</em> 83 (2017).</p>
<p>Ruiz, Armando Jos&eacute; Torrent.&rdquo;Patria potestas in pietate non atrocitate consistere debet.<em>&rdquo; INDEX 35</em> (2007): 159-175.</p>
<p>Ruiz, Armando Jos&eacute; Torrent. &rdquo;Usurae supra legitimum modum.&rdquo; <em>Studi Nicos&igrave;a VII.</em> Milano, 2007.</p>
<p>Schiavone, Aldo. "Giuristi e principe nelle Istituzioni di Ulpiano: un'esegesi." <em>Studia et documenta historiae et iuris </em>69 (2003): 3-56.</p>
<p>Senn, Fritz. <em>De la justice et du droit. Explication et la definition traditionnelle de la justice. </em>Paris, 1927.</p>
<p>Siber, Heinrich<em>. R&ouml;misches Recht in Grunz&uuml;gen f&uuml;r die Vorlesung</em> . II. R&ouml;misches, 1928.</p>
<p>Sicari, Amalia. &ldquo;Suum cuique tribuere&ldquo; nell&rsquo;esperienza giuridica romana: duttilit&agrave; di un principio fra valori e diritto.&rdquo; <em>Roma e America 34</em> (2013).</p>
<p>Sordi, Marta. &ldquo;Bellum iustum ac pium.&ldquo; <em>Guerra e diritto nel mondo greco romano. </em>Milano, 2002.</p>
<p>Talamanca, Mario. "L'" aequitas naturalis" e Celso in Ulp. 26 ad ed. D. 12, 4, 3, 7."&nbsp;<em>Bullettino dell'Istituto di Diritto Romano" Vittorio Scialoja"</em>&nbsp;35 (1993).</p>
<p>Van Den Bergh, Govaert. &ldquo;Jedem das Seine.&rdquo;<em> Forum Historiae Iuris</em> (2005).</p>
<p>Villey, Michel. &ldquo;Suum ius cuique tribuere.&ldquo; <em>Studi De Francisci </em>I. Milano, 1954.</p>
<p>von L&uuml;btow, Ulrich. &ldquo;Die Anschauungen der r&ouml;mischen Jurisprudenz &uuml;ber Recht und Gerechtigkeit .<em>&ldquo; </em><em>Studi Sanfilippo VI</em>. Milano ,1985.</p>
<p>Waldstein, Wolfgang. &ldquo;Zur juristische Relevanz der Gerechtigkeit bei Aristoteles, Cicero und Ulpian.&ldquo; <em>Der Gerechtigkeitssanspruch des Rechts. Festschrift Mayer-Maly </em>III. M&uuml;nchen ,1996.</p>
<p>Waldstein, Wolfgang. &rdquo;Gemeingut sowohl der peripathetischen als auch der stoischen Tradition. Ist das suum &ldquo;cuique&rdquo; eine Leerformel?.&rdquo; <em>SDHI 61</em> (1995).</p>
<p>WengeR, Leopold. &ldquo;Suum cuique in antiken Urkunden.&ldquo; <em>Aus der Geisteswelt des Mittelalters</em>. Studien M. Grabmann 2 (1935).</p>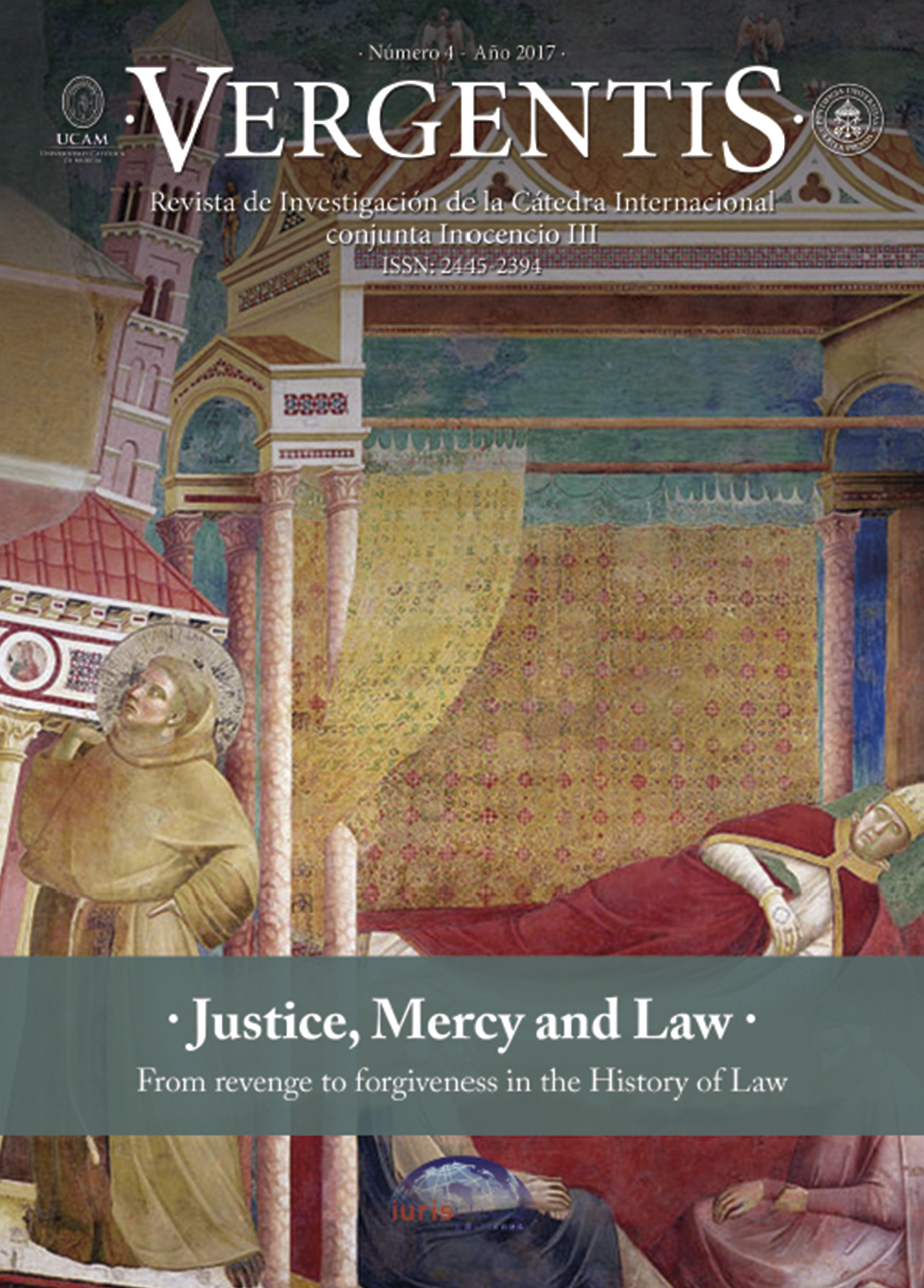 Downloads
How to Cite
Torrent, A. (2017). The concept of iustitia for the Roman jurists. Revista De Investigación De La Cátedra Internacional Conjunta Inocencio III, 1(4), 39–56. Retrieved from https://vergentis.ucam.edu/index.php/vergentis/article/view/38