Innocent III (1198-1216) and the universitas studiorum [1203 → 1917/1983/1990] (II)
Keywords:
Universitas, Studium Generale, Modern age, Middle ages
Abstract
As we know, in the classic Latin, the Middle ages and the Modern age, the adjective universitas refers to a group of goods (universitates rerum) or persons (universitates personarum). We also know that the first name of the original institution of high studies is Studium generale. In 1203 is introduced the denomination of Universitas (magistrorum-scholarium-studiorum generalium). For six centuries - until the 18th century, included – this name will compete with that one and with other denominations (Academy- Gymnasium), until it remains as the only one in the 19th century.. Furthermore the adjective universitas, that had had – through the 19th century – different meanings, finally has - in the 20th century – only one meaning. This doesn't happen -since the 19th century- with the adjective facultas, that preserves its polyvalent value. The study is based mainly on primary sources and secondly on monographs published by those illustrious editors since the end of the 19th century and, for Spain, since the second half of the 20th century.
Keywords: Universitas; Studium Generale; Middles ages; Modern ages.
References
<div>
<div>&nbsp;</div>
</div>
<div>&nbsp;</div>
<div>&nbsp;</div>
<div>&nbsp;</div>
<div>
<p>Abate, Andr&eacute;s. <em>Diccionario de derecho can&oacute;nico. Arreglado a la jurisprudencia eclesi&aacute;stica espa&ntilde;ola antigua y moderna</em>. Madrid, 1847-48.</p>
<p>Alonso Maranon, Pedro, Casado Arbonies, Manuel, and Ruiz Rodrıguez, Ignacio. "Las Universidades de Alcal&aacute; y Sig&uuml;enza y su proyeccion institucional americana: Legalidad, modelo y estudiantes universitarios en el Nuevo Mundo." Alcala de Henares, 1997.</p>
<p>Alvar Ezquerra, Antonio. <em>Historia de la Universidad de Alcal&aacute;</em>. Alcal&aacute; de Henares, 2010.</p>
<p>Andr&eacute;s Santos, Francisco Javier. <em>Roma. Instituciones e ideolog&iacute;as pol&iacute;ticas durante la Rep&uacute;blica y el Imperio</em>. Madrid, 2015.</p>
<p>Aniceto Alcolea, Nicol&aacute;s. <em>Vida del venerable Cardenal Cisneros, lustre de toda la Religi&oacute;n Ser&aacute;fica</em>. Madrid, 1777 .</p>
<p>Beltr&aacute;n De Heredia, Vicente.&nbsp;<em>Los or&iacute;genes de la Universidad de Salamanca</em>. Vol. 1. Universidad de Salamanca, 1953.</p>
<p>Bertr&aacute;n Roig&eacute;, Primo. <em>Cat&aacute;logo del Archivo del Colegio de Espa&ntilde;a, Studia Albornotiana XL</em>. Bolonia, 1981.</p>
<p>Betancourt Serna, Fernando. "Don Elio Antonio de Nebrija: Jurist of Utrumque Ius."&nbsp;<em>Revista de la Facultad de Derecho y Ciencias Pol&iacute;ticas</em>&nbsp;43.118 (2013).</p>
<p>Birocchi Italo, Cortese Ennio, Mattone Antonello, Miletti Marco Nicola. <em>Dizionario biografico dei giuristi italiani (XII&ndash;XX secolo).</em> Bologna, 2013.</p>
<p>Borraz Girona, Francisco. "El Colegio de Santa Catalina de la Universidad de Salamanca <em>(</em>1549&ndash;1780)."&nbsp;Salamanca<em>, </em>1962.</p>
<p>Cabo Alonso, &Aacute;ngel.<em> La Universidad de Salamanca y su &aacute;rea geogr&aacute;fica de atracci&oacute;n</em>. Salamanca, 1967.</p>
<p>Cappelli, Adriano. <em>Cronologia, Cronografia e Calendario Perpetuo. Dal principio dell&rsquo;era cristiana ai nostri giorni</em>. Milano, 2009 .</p>
<p>Casta&ntilde;eda Delgado, Paulino. <em>Los Dominicos y el Nuevo Mundo</em>. Actas del I Congreso Internacional sobre los Dominicos y el Nuevo Mundo. Sevilla 21&ndash;25 de abril de 1987. Madrid, 1988.</p>
<p>Celestino, Piana<em>. Nuovi documenti sull'Universit&agrave; di Bologna e sul Collegio di Spagna</em>. Bologna, 1976.</p>
<p>D&rsquo;Ors, &Aacute;lvaro. <em>Sistema de las Ciencias III</em>. Pamplona, 1974.</p>
<p>De La Fuente, Vicente. &ldquo;Historia de la Universidades, Colegios y dem&aacute;s establecimientos de ense&ntilde;anza en Espa&ntilde;a.&rdquo; <em>Unver&auml;ndeter Nachdruck der Ausgab</em>. Madrid, 1884.</p>
<p>De Nebrija, Elio Antonio.&nbsp;<em>Vocabularium utriusque iuris</em>. Lyon, 1561.</p>
<p>Denifle, Heinrich. "Die Entstehung der Universit&auml;ten des Mittelalters bis 1400 (Berlin, 1885)."&nbsp;<em>Chapter II,'Entstehung und Entwicklung der beiden altesten Universitaten</em>&nbsp;(1956).</p>
<p>d'Irsay, Stephen. <em>Histoire des universit&eacute;s fran&ccedil;aises et &eacute;trang&egrave;res des origines &agrave; nos jours I. Moyen &Agrave;ge et Renaissance</em>. Par&iacute;s, 1935.</p>
<p>Domingo, Rafael. "&Aacute;lvaro d&rsquo;Ors (1915-2004), in memoriam."&nbsp;<em>Anuario de Historia de la Iglesia</em>&nbsp;13. Pamplona, 2004.</p>
<p>Domingo, Rafael. "Juristas universales, II: Juristas modernos. Siglos XVI al XVIII: de Zasio a Savigny."&nbsp;Madrid, Barcelona, 2004.</p>
<p>Domingo, Rafael. &ldquo;Juristas universales I. Juristas antiguos.&rdquo; Madrid, Barcelona, 2004.</p>
<p>Domingo, Rafael. &ldquo;Juristas universales IV. Juristas del siglo XX. De Kelsen a Rawls&ntilde;.&rdquo; Madrid, Barcelona, 2004.</p>
</div>
<p>Domingo,Rafael, &Aacute;lvaro d&rsquo;Ors. &ldquo;Una aproximaci&oacute;n a su obra.&rdquo; Navarra, 2005.</p>
<div>
<p>Domingues de Sousa Costa, Ant&oacute;nio, and O. F. M. de Sousa. "Portugueses no Col&eacute;gio de S.Clemente e Universidade de Bolonha durante o s&eacute;culo XV.&rdquo; <em>Studia Albornotiana</em>. Vol.&nbsp;2. Bolonia, 1990.</p>
<p>Eguiguren, Luis Antonio. &ldquo;Historia de la Universidad de Lima.&rdquo; Lima, 1951.</p>
<p>Ermini, Giuseppe. "Concetto di studium generale."&nbsp;<em>Archivio giuridico Filippo Serafini</em>&nbsp;7 (1942).</p>
<p>Ezquerra, Luis Ferrer, and Misol Garc&iacute;a, Higinio.&nbsp;<em>Cat&aacute;logo de colegiales del Colegio mayor de Santiago el Cebedeo, del Arzobispo, de Salamanca.</em> Universidad de Salamanca, 1956.</p>
<p>Feenstra, Robert. &ldquo;La Vita Thomae Diplovatatii de Baptiste Egnatius (1520<em>).</em>&rdquo; <em>Studi in onore di Edoardo Volterra</em>. Vol. IV. Milano, 1871.</p>
<p>Fournier, Marcel. &rdquo;Les statutes et privileges des Universit&eacute;s fran&ccedil;aises depuis leur foundation jusqu en 1789.&rdquo; Paris, 1890.</p>
<p>Frova, Carla. "Le scuole municipali all&rsquo;epoca delle universit&agrave;."&nbsp;<em>Vocabulaire des &eacute;coles et des m&eacute;thodes d'enseignement au moyen &acirc;ge: Actes du colloque, Rome 21-22 octobre 1989</em> (1992).</p>
</div>
<p>Gonz&aacute;lez, Ajo, and S&aacute;inz de Z&uacute;&ntilde;iga, C&aacute;ndido Mar&iacute;a. "Historia de las universidades hisp&aacute;nicas." <em>Or&iacute;genes y desarrollo desde su aparici&oacute;n hasta nuestros d&iacute;as</em> 1. &Aacute;vila, 1957.</p>
<div>
<p>Hern&aacute;ndez De Alba, Guillermo. <em>Documentos para la historia de la educaci&oacute;n en Colombia</em>. Bogot&aacute;, 1969-1986.</p>
<p>Hern&aacute;ndez de Alba, Guillermo.&nbsp;<em>Analectas del Colegio Mayor de Nuestra Se&ntilde;ora del Rosario</em>. Bogot&aacute;, 1953.</p>
<p>Ib&aacute;&ntilde;ez Palomares, Jes&uacute;s Mar&iacute;a. "Historia de la Universidad de Vallodolid." Valladolid, 1989.</p>
<p>Jim&eacute;nez Moreno, Luis. <em>La Universidad Complutense cisneriana: impulso filos&oacute;fico, cient&iacute;fico y literario, siglos XVI y XVII</em>. Madrid, 1996.</p>
<p>John Tate Lanning. <em>Reales c&eacute;dulas de la Real y pontificia Universidad de M&eacute;xico de 1551 a 1816</em>. M&eacute;xico, 1946.</p>
<p>Kelsen, Hans . <em>La teor&iacute;a del Estado de Dante Alighieri</em>. Oviedo, 2007.</p>
<p>Kleinheyer, Gerd, and Schr&ouml;der, Jan. "Deutsche und Europ&auml;ische Juristen aus neun Jahrhunderten."&nbsp;<em>Eine biographische Einf&uuml;hrung in die Geschichte der Rechtswissenschaft. </em>Heidelberg, 1996.</p>
<p>Mango, Cyril. <em>The Oxford History of Byzantium</em>. Oxford, 2002.</p>
<p>Mariotti, Giovanni.&nbsp;<em>Memorie e documenti per la storia della Universit&agrave; di Parma nel Medioevo</em>. Bologna, 1984.</p>
<p>&nbsp;Mariotti, Giovanni.&nbsp;<em>Memorie e documenti per la storia della Universit&agrave; di Parma nel Medioevo. </em>Parma, 1888.</p>
<p>Mart&iacute;n Hern&aacute;ndez, Francisco. "Influencia del Colegio San Clemente de Bolonia en los Colegios Mayores espa&ntilde;oles."&nbsp;<em>El cardenal Albornoz y el Colegio de Espa&ntilde;a. </em>San Clemente Bolonia, Zaragoza, 1972.</p>
<p>Mart&iacute;nez de Sousa, Jos&eacute;. <em>Diccionario de bibliolog&iacute;a y ciencias afines</em>. Madrid, 1993.</p>
<p>Medell&iacute;n Becerra, Jorge Alejandro, and Fajardo Rivera, Diana.&nbsp;<em>Diccionario de Colombia</em>. Bogot&aacute;, 2005.</p>
<p>Michaud Quantin, Pierre. <em>Universitas: expressions du mouvement communautaire dans le Moyen-&Acirc;ge latin</em>. Par&iacute;s, 1970.</p>
<p>Naz, Raoul. <em>Dictionnaire de droit canonique</em>. Paris, 1935-1965.</p>
<p>Nogaledo Alvarez, Santiago.&nbsp;<em>El Colegio Menor de" Pan y Carb&oacute;n", primero de los colegios universitarios de Salamanca</em>. Universidad de Salamanca, 1958.</p>
<p>Otaduy, Javier, Viana, Antonio, and Sedano Rueda, Joaqu&iacute;n. <em>Diccionario general de derecho Can&oacute;nico</em>. Navarra, 2012.</p>
<p>Pere&ntilde;a Vicente, Luciano.&nbsp;<em>La Universidad de Salamanca, forja del pensamiento pol&iacute;tico espa&ntilde;ol en el siglo XVI</em>. Salamanca, 1954.</p>
<p>P&eacute;rez Mart&iacute;n, Antonio. &ldquo;Proles Aegidiana.&rdquo; <em>Studia Albornotiana. </em>Vol. 1. Bologna, 1979.</p>
<p>P&eacute;rez Mart&iacute;n, Antonio. <em>Historia del derecho europeo</em>. Medell&iacute;n, 2013.</p>
<p>Peset, Mariano. <em>Historia de la Universidad de Valencia</em>. Valencia, 1999-2000.</p>
<p>Peset, Mariano.&nbsp;<em>Bulas, constituciones y estatutos de la Universidad de Valencia</em>. Vol. 1. Universitat de Val&egrave;ncia, 1999.</p>
<p>Piana, Celestino. <em>Nuovi documenti sull&rsquo;Universit&aacute; di Bologna e sul Collegio di Spagna</em>. Bolonia, 1976.</p>
<p>Rashdall, Hastings.&nbsp;<em>The Universities in the Middle Ages. </em>Eds. Powicke, Frederick Maurice, and Emden, Alfred Botherston. Vol. I. Oxford, 1997.</p>
<p>Rodr&iacute;guez Cruz, &Aacute;gueda Mar&iacute;a. "Historia de las universidades hispanoamericanas." <em>Per&iacute;odo hisp&aacute;nico</em> 11 (1973).</p>
<p>Rodr&iacute;guez Cruz, &Aacute;gueda Mar&iacute;a. <em>La Universidad de Salamanca en Hispanoam&eacute;rica. </em>Vol. 76. Universidad de Salamanca, 2005.</p>
<p>Rodr&iacute;guez Cruz, Agueda Mar&iacute;a. <em>Salmantica Docet: la proyecci&oacute;n de la Universidad en Hispanoam&eacute;rica</em>. Vol. 29. La Universidad de Salamanca, 1977.</p>
<p>Rodr&iacute;guez San Pedro Bezares, Luis E., and Polo Rodr&iacute;guez, Juan Luis. "Historia de la Universidad de Salamanca. IV. Vestigios y entramados." Salamanca, 2009.</p>
<p>Rodr&iacute;guez San Pedro Bezares, Luis E., and Polo Rodr&iacute;guez, Juan Luis. <em>Fuentes, archivos y bibliotecas para una historia de las universidades hisp&aacute;nicas</em>. <em>Miscel&aacute;nea Alfonso IX, 2014. </em>Universidad de Salamanca, 2016.</p>
</div>
<p>Rodr&iacute;guez San Pedro Bezares, Luis Enrique. <em>Historia de la Universidad de Salamanca. Volumen I: Trayectoria hist&oacute;rica e instituciones vinculadas</em>. Vol. 61. Universidad de Salamanca, 2002.</p>
<div>
<p>R&uuml;egg, Walter, and Hilde de Ridder Symoens. <em>Historia de la Universidad en Europa: Las Universidades en la Edad Media</em>. Bilbao, 1994.</p>
<p>Sala Balust, Luis. <em>Constituciones, estatutos y ceremonias de los antiguos colegios seculares de la Universidad de Salamanca</em>. Vol. 2. La Universidad de Salamanca, 1962.</p>
<p>Salazar Orsa, Jos&eacute; Abel. <em>Los estudios eclesi&aacute;sticos superiores en el Nuevo Reino de Granada (1563&ndash;1810). </em>Madrid, 1946.</p>
<p>Stolleis, Michael. <em>Juristen: ein biographisches Lexikon: von der Antike bis zum 20</em>. Vol. 1417. Munchen, 2001.</p>
<p>Verdera y Tuells, Evilio. <em>El Cardenal Albornoz y el Colegio de Espa&ntilde;a</em>. Bologna, 1972-1979.</p>
<p>Verger, Jacques, and Christophe, Charle.&nbsp;<em>Histoire des universit&eacute;s: XIIIe-XXIe si&egrave;cle</em>. France, 2012.</p>
<p>Verger, Jacques. &ldquo;Esquemas.<em>&rdquo; Historia de la Universidad en Europa</em>. <em>Las Universidades en la Edad Media</em>. Vol. I. Bilbao, 1994.</p>
<p>Verger, Jacques. <em>Gentes del saber en la Europa de finales de la Edad Media</em>. Madrid, 1999.</p>
</div>
<p>Verger, Jacques. <em>Les Universit&eacute;s au moyen-&acirc;ge</em>. Vol. 14. France, 1973.</p>
<p>Volterra, Edoardo. &ldquo;Recensione a Storia del diritto romano nel Medio Evo per F. Carlo D&eacute; Savigny&ndash; Prima versione dal tedesco dell&rsquo;avv. E. Bollati&ndash;Risitampa anast&aacute;tica della II edizione, Torino 1854&ndash; 1857.&rdquo; <em>Bulletino dell&rsquo;Istituto di Diritto Romano &ldquo;Vittorio Scialoja</em>&rdquo;. Vols. XIV- LXXV. Milano, 1972.</p>
<p>von Savigny, Friedrich Carl. <em>Geschichte des r&ouml;mischen Rechts im Mittelalater. Vierte Ausgabe Unver&auml;nderter fotomechanischen Nachdruck der zweiten Ausgabe von 1834</em>. Vol. I&ndash;VII. Bad Homburg, 1961.</p>
<p>von Savigny, Friedrich Carl. <em>Storia del diritto romano nel Medio Evo. Prima versione dal tedesco dell&rsquo;avvocato Emmanuele Bollati con note e giunte inedite.</em> Vols. I-III. Roma, 1973.</p>
<p>Wilhelm Putzger, Friedrich.&nbsp;<em>Historischer weltatlas</em>. Berl&iacute;n, 1979.</p>
<p>&nbsp;</p>
<p>&nbsp;</p>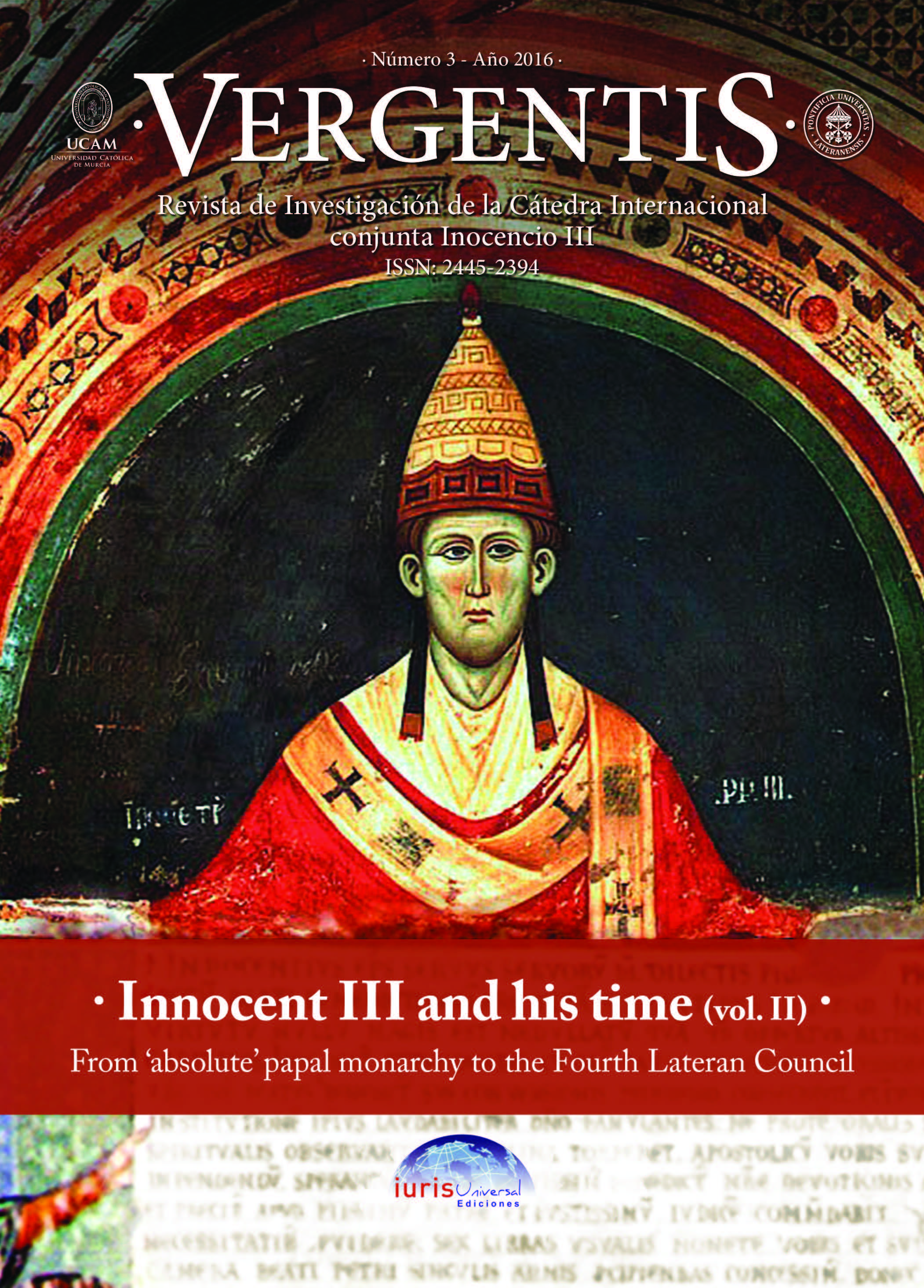 Downloads
How to Cite
Betancourt-Serna, F. (2016). Innocent III (1198-1216) and the universitas studiorum [1203 → 1917/1983/1990] (II). Revista De Investigación De La Cátedra Internacional Conjunta Inocencio III, 1(3), 269–315. Retrieved from https://vergentis.ucam.edu/index.php/vergentis/article/view/36
Section
Notes, current status of research and bibliographic review