Julian the Apostate and the episcopalis audientia
Keywords:
Episcopalis Audientia, Julian the Apostate, Christians
Abstract
Starting from the understanding of the episcopalis audientia as a special type of arbitration, this work offers a reasonable interpretation of the meaning of three texts (Iul. ep. 114.437a, Greg. Nac. or. 4.96 and Sozom. hist. eccl. 5.18.1) that seemed to support prima facie the idea that Julian the Apostate abolished the
civil jurisdiction allegedly attributed to the bishops by Constantine.
Keywords: episcopalis audientia; Julian the Apostate; Christians.
References
<p>Banfi, Antonio Mario.&nbsp;<em>Habent illi iudices suos: studi sull'esclusivit&agrave; della giurisdizione ecclesiastica e sulle origini del privilegium fori in diritto romano e bizantino</em>. Vol. 3. Giuffr&egrave;, 2005.</p>
<p>Bringmann, Karl. <em>Juliano</em>. Barcelona, 2006.</p>
<p>Buenacasa P&eacute;rez, Carlos. "La persecuci&oacute;n del emperador Juliano a debate: los cristianos en la pol&iacute;tica del &uacute;ltimo emperador pagano (361-363)."&nbsp;<em>Cristianesimo nella storia</em>&nbsp;21.3 (2000): 509-529.</p>
<p>Carri&eacute;, Jean Michel. "Julien l&eacute;gislateur: un m&eacute;lange des genres?."&nbsp;<em>Antiquit&eacute; Tardive</em>&nbsp;17 (2009): 175-184.</p>
<p>Cimma, Maria Rosa. "A proposito delle &ldquo;Constitutiones Sirmondianae.&rdquo; <em>Atti dell&rsquo;Accademia Romanistica Costantiniana 10</em>&nbsp;(1995).</p>
<p>Cimma, Maria Rosa.&nbsp;<em>L'episcopalis audientia nelle costituzioni imperiali da Costantino a Giustiniano</em>. Giappichelli, 1989.</p>
<p>Cuena Boy, Francisco Jose. "La &lsquo;episcopalis audientia&rsquo;: la justicia episcopal en las causas en las causas civiles entre laicos." Valladolid, 1985.</p>
<p>Drake, Harold Allen.&nbsp;<em>Constantine and the bishops: the politics of intolerance</em>.&nbsp; Baltimore, 2000.</p>
<p>Ensslin, Wilhelm. "Kaiser Julians Gesetzgebungswerk und Reichsverwaltung."&nbsp;<em>Klio</em>&nbsp;18 (1923).</p>
<p>Germino, Emilio.&nbsp;<em>Scuola e cultura nella legislazione di Giuliano l&rsquo;Apostata</em>. Jovene. Napoli, 2004.</p>
<p>Harries, Jill. "Julian the lawgiver."&nbsp;<em>Emperor and Author: The Writings of Julian the Apostate</em>. N. Baker-Brian and S. Tougher.Eds. Swansea, 2012.</p>
<p>Huck, Olivier. "IV. A propos de CTh 1, 27, 1 et CSirm 1."&nbsp;<em>Zeitschrift der Savigny-Stiftung f&uuml;r Rechtsgeschichte. </em><em>Romanistische Abteilung</em>&nbsp;120.1 (2003).</p>
<p>Huck, Olivier. "La cr&eacute;ation de l'audientia episcopalis par Constantin."&nbsp;<em>J.-N.</em> Guinot y F. Richard<em>. </em>Eds. Le t&eacute;moinage du Code Th&eacute;odosien. Paris, 2005.</p>
<p>MoreschinI, Claudio, and Quacquarelli Antonio. &ldquo;Gregorio Nazianzeno e la persecuzione anticristiana di Giuliano l&rsquo;Apostata.&rdquo; <em>I martiri della Val di Non e la reazione pagana alla fine del IV secolo</em>. Bologna, 1985.</p>
<p>Pasquale, Arina. &ldquo;La legislazione di Giuliano.&rdquo;<em> Atti dell'Accademia di Scienze Morali e Politiche di Napoli 96(1985).</em></p>
<p>Pricoco, Salvatore. "L'editto di Giuliano sui maestri (CTh 13, 3, 5)."&nbsp;<em>Orpheus. Rivista di Umanit&agrave; Classica e Cristiana Torino</em>&nbsp;1.2 (1980).</p>
<p>Rinolfi, Cristiana. &ldquo;Episcopalis audientia e arbitrato.&rdquo; <em>Diritto e Storia</em> 8 (2009).</p>
<p>Sirks, Adriaan Johan Boudewijn. &ldquo;The episcopalis audientia in Late Antiquity.&rdquo;<em> Droit et cultures. </em>[Online, URL: http://droitcultures.revues.org/3005] 65&nbsp;(2013).</p>
<p>Vessey, Mark. "The origins of the Collectio Sirmondiana: a new look at the evidence."&nbsp;<em>The Theodosian Code, </em><em>Studies in the imperial law of late antiquity.</em>&nbsp;J. Harries and I. Wood. Eds. London, 1993.</p>
<p>Vismara, Giulio.&nbsp;&ldquo;Episcopalis audientia: l'attivit&agrave; giurisdizionale del vescovo per la risoluzione delle controversie private tra laici nel diritto romano e nella storia del diritto italiano fino al secolo nono.&rdquo; <em>Vita e pensiero</em>. Milano,1937.</p>
<p>Vismara, Giulio.&nbsp;<em>La giurisdizione civile dei vescovi: secoli I-IX</em>. Vol. 18. Giuffr&egrave;, 1995.</p>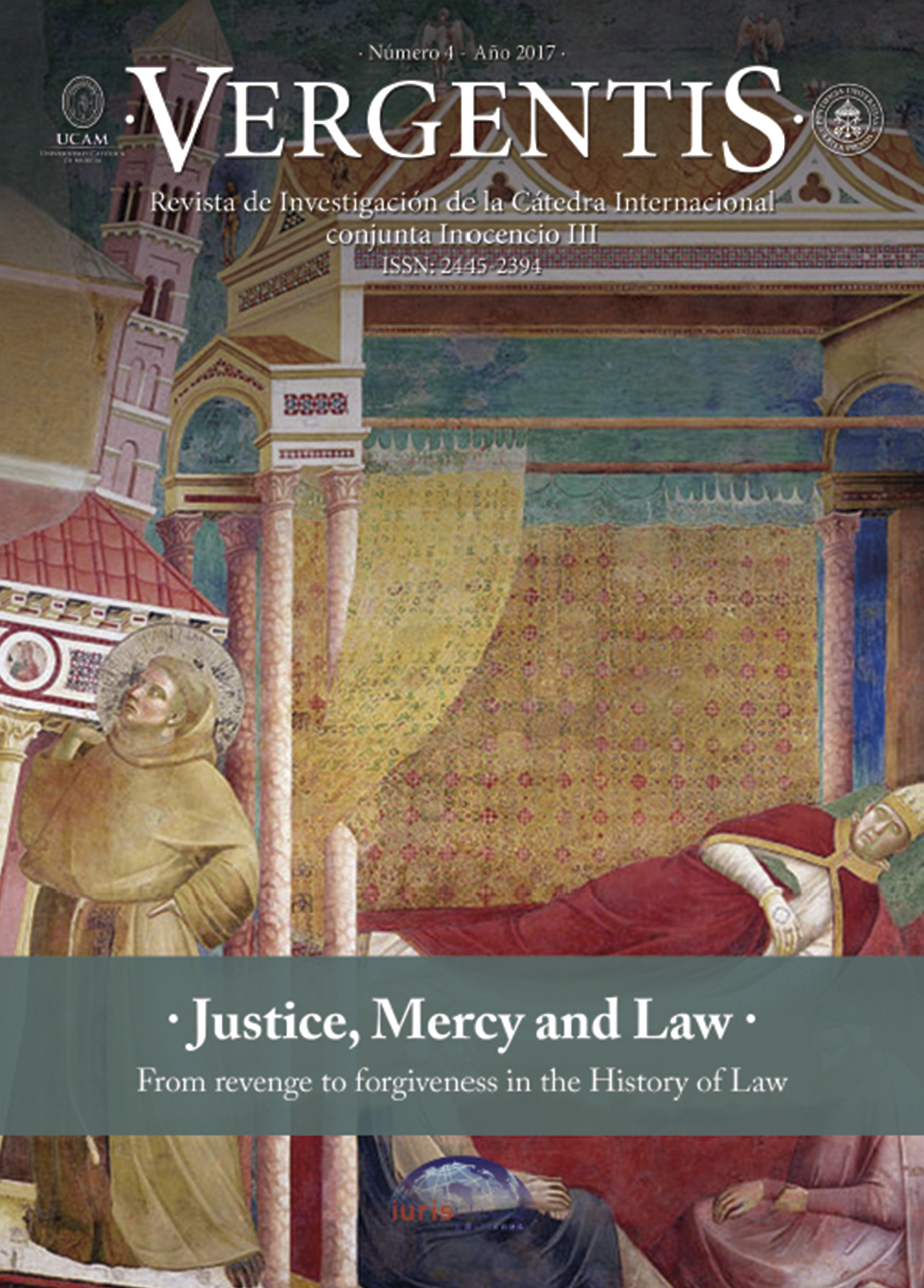 Downloads
How to Cite
Cuena Boy, F. (2017). Julian the Apostate and the episcopalis audientia. Revista De Investigación De La Cátedra Internacional Conjunta Inocencio III, 1(4), 57–76. Retrieved from https://vergentis.ucam.edu/index.php/vergentis/article/view/39