Roman law principles of distance contracting in the EU
Abstract
The purpose of this paper is to analyse the foundations of Roman law that have crystallized around different legal principles that currently shape the legal-substantive regime of distance contracting with consumers in the framework of the EU. In particular, we will deal with the principles that govern contracts from their genesis and subsequent development, such as: a) good faith as an inspiring principle of perfection (art. 1.258 and 1.262 of the Civil Code) intended to inform the contract (art. 97 and 98 of the Revised Text of the General Law for the Defence of Consumers and Users, hereinafter, TRLGDCU); b) and the right of withdrawal as an exception to pacta sunt servanda or fulfilment of what has been agreed (art. 102 TRLGDCU).
References
Andrés Santos, Francisco Javier. Anuario de Derecho civil. Madrid, 2015.
Alexy, Robert. Teoría de la argumentación jurídica. La teoría del discurso racional como teoría de la fundamentación jurídica. Palestra, 2017.
Alonso Benito, Luis Enrique. "Los orígenes del consumo de masas." Estudios de consumo 6 (1985).
Alpha, Guido. Il Diritto dei consumatori. Roma, 1999.
Arroyo San José, Laura. "La información precontractual como elemento reequilibrador en la contratación de consumo" Codificación y reequilibrio de la asimetría negocial (2017).
Badenes Gasset, Ramón. El riesgo imprevisible. Barcellona, 1946.
Bermejo Vera, José. "Aspectos jurídicos de la protección del consumidor." Revista de Administración Pública 87 (1978): 251-300.
Betti, Emilio. Le interpretazioni della legge e dell'atto giuridico. Teoria generale e dogmatica. Milano, 1949.
Castán Tobeñas, José. Derecho Civil español, común y foral. Madrid, 1962.
Clemente De Diego, Felipe. La jurisprudencia como fuente de Derecho. Granada, 2016.
Cerami, Pietro, e Petrucci, Aldo. Diritto commerciale romano.Torino, 2010.
De Belleperche, Pierre. Lectura institutionum. Forni, 1972.
De Ruggiero, Roberto. Instituciones de derecho civil. Madrid, 1929.
Diez Picazo, Luis. Comentarios a las reformas del Código Civil. Madrid, 1977.
Dórr Zegers, Juan Carlos. "Notas acerca de la teoría de la imprevisión." Revista chilena de Derecho 12 (1985).
Dworkin, Ronald. Los derechos en serio. Barcelona, 2012.
Fernández Cabaleiro, Eugenio. "Il principio della buona fede. Sus aplicaciones prácticas en el Derecho civil español." Revista Crítica de Derecho inmobiliario 460 (1967): 931-941.
Gadamer, Hans G. Verdad y método. Salamanca, 1994.
Gallo, Paolo. Sopravvenienza contrattuale e problema di gestione del contralto. Milano, 1992.
García Caracuel, Manuel. Evolución histórica: Pacta sunt servanda versus rebus sic stantibus. Madrid, 2014.
García Valdecasas, Guillermo. "Los principios generales del derecho título preliminar del código civil." Anuario de Derecho civil (1975): 331-336.
Goldschmidt, Levin. Universalgeschichte des Handelrechts. Lieferung, 1891.
Gómez Calle, Esther. "Los deberes precontractuales de información." La Ley (1994): 12-26.
Hall, Elizabeth, Howells, Geraint, and Watson, Jonathon. "The Consumer Rights Directive. An Assessment of its Contribution to the Development of European Consumer Contract Law." European Review of Contract Law 8 (2012).
Halperin, Jean Louis. "L'histoire du droit constituée en discipline: consécration ou repli identitaire?." Revue d'histoire des sciences humaines 1 (2001): 9-32.
Hauriou, Maurice. "La teoría del riesgo imprevisible y los contratos influidos por instituciones sociales." Revista de Derecho Privado 148 (1926).
Köbler, Ralf. Die "clausula rebus sic stantibus" als allgemeiner Rechtsgrundsatz.Tübingen, 1991.
Lacaba Sánchez, Fernando. "Pacta sunt servanda versus rebus sic stantibus." Revista de Derecho vlex, 191 (2020).
Larenz, Karl. "Base del negocio jurídico y cumplimiento de los contratos." Revista de Derecho Privado. Madrid (1956).
Larenz, Karl, and Schollmeyer, Mario. Selbstverantwortung und Geschäftsgrundlage. Zurechnung und Haftung bei Geschäftsgrundlagenstörungen gemäß § 313 BGB. Tübingen, 2014.
Lenel, Otto. "La cláusula rebus sic stantibus." Revista de Derecho Privado (1923).
Llácer Matacás, María Rosa. "Obligaciones vinculadas a la formación del contrato y codificación del Derecho de Consumo." Estudios de derecho de obligaciones: homenaje al profesor Mariano Alonso Pérez, Llamas Pombo, Eugenio. Madrid (2006).
Marcos Francisco, Diana. "Hacia un Derecho uniforme en la Unión Europea." Actualidad Civil 12 (2012).
Marín López, Manuel Jesús. "Obligación de asesoramiento, obligación de evaluar la solvencia del consumidor y otras obligaciones precontractuales del prestamista. Su regulación en el Proyecto de Ley de Contratos de Crédito al Consumo." Revista CESCO de Derecho de Consumo (2011).
Miquel González, Jose María. "Observaciones en torno a la buena fe." Homenaje al profesor Juan Roca Juan (1989): 497-508.
Paz Ares, Cándido. Comentario del Código Civil. Madrid, 1999.
Pagador López, Javier. "Los Contratos De Consumo Celebrados Mediante Condiciones Generales Y Cláusulas Predispuestas." Derecho Privado De Los Consumidores. Madrid (2012).
Pérez Luño, Antonio. "Principios generales del Derecho ¿un mito jurídico?." Revista de estudios políticos 98 (1997): 9-24.
Petrucci, Aldo. "Orígenes romanísticas de la buena fe objetiva en la contratación mercantil." Anuario Mejicano de Historia del Derecho 15 (2003): 601-615.
Pothier, Robert. Traité des obligations. Paris, 1895.
Rubio Ferreira, Delia Matilde. La buena fe. El principio general en el Derecho civil. Madrid, 1984.
Sánchez Hidalgo, Adolfo Jorge. Epistemología y metodología jurídica. Valencia, 2020.
Schermaier, Martin Josef. "Mistake, misrepresentation and precontractual duties to inform: the civil law tradition." Fraud and Duties to Inform in European Contract Law, Cambridge University Press. New York (2005): 40-64.
Solar Cayon, José Ignacio. Il realismo giuridico di Jerome Frank. Normas, hechos y discrecionalidad en el proceso judicial. Madrid, 2005.
Sosa Olán, Henry. "Los deberes contractuales de información en materia de contratación a distancia ante la ley 3/2014, de 27 de marzo, por la que se modifica el Texto Refundido de la Ley de Consumidores y Usuarios." Revista de Derecho 46 (2016).
Torrent Ruiz, Armando. "Attività bancaria e inflazione nel periodo dioclezianeo-costantiniano." IURA 57 (2009): 49-86.
Von Tuhr, Andreas. Der Allgemeine Teil Des Deutschen Bürgerlichen Rechts: Bd. 1.-2. Hälfte. Die Rechtserheblichen Tatsachen, Insbesondere Das Rechtsgeschäft. Duncker & Humblot, 1914.
Witz, Claude. La reforme du droit allemand des obligations. Belgique, 2013.
Zimmermann, Reinhard. The law of obligations: Roman foundation of the civilian tradition. Oxford, 1990/1996.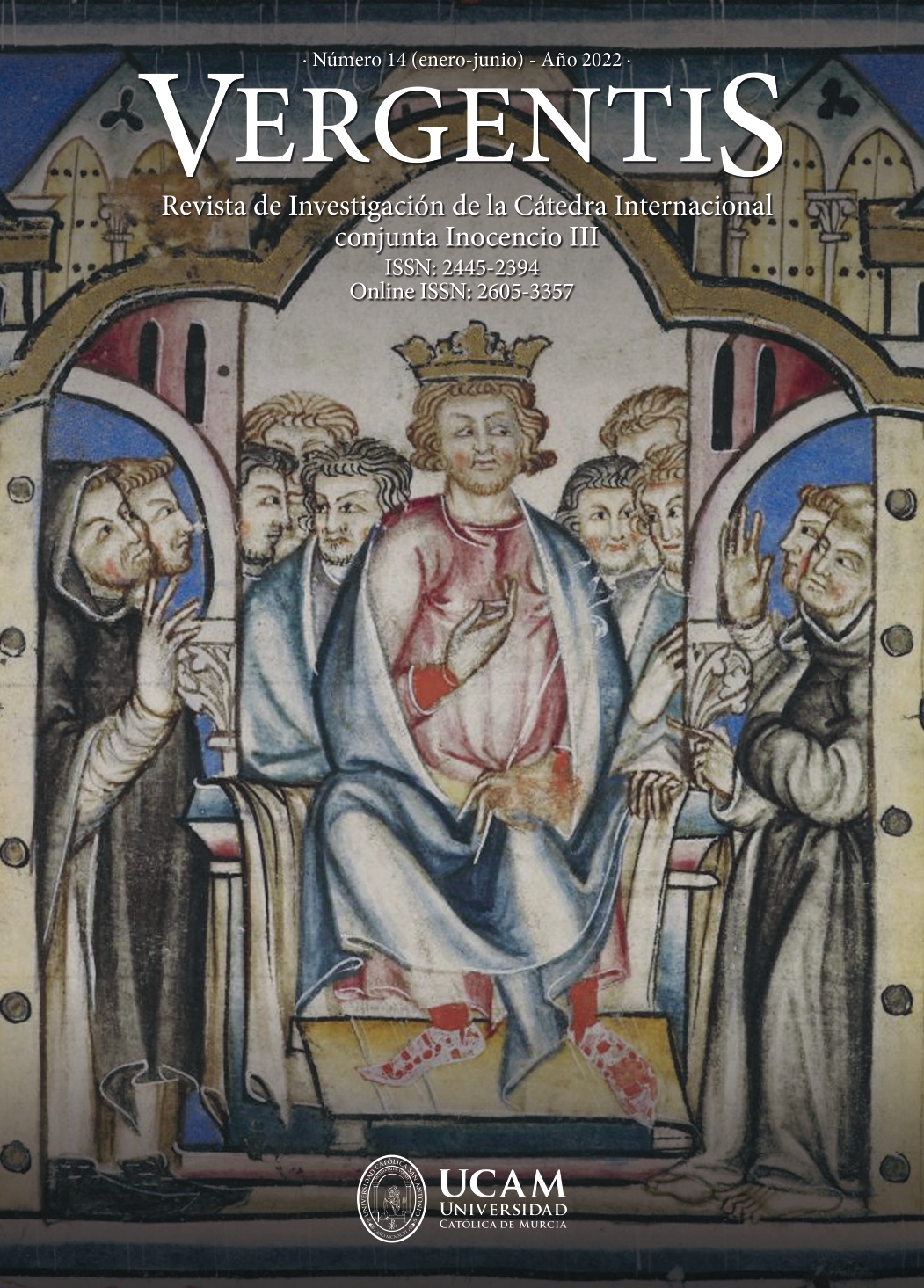 Downloads
How to Cite
Ruiz Espinosa, J. (2022). Roman law principles of distance contracting in the EU. Revista De Investigación De La Cátedra Internacional Conjunta Inocencio III, (14). Retrieved from https://vergentis.ucam.edu/index.php/vergentis/article/view/253
License
Copyright (c) 2022 José Ruiz Espinosa
This work is licensed under a Creative Commons Attribution-NonCommercial-NoDerivatives 4.0 International License.