Frozen embryos versus inheritance law
Abstract
The question arises as to whether cryopreserved embryos are or can be heirs. Its situation incites more and more uncertainty and generates more conflicts of a juridical nature: filiatorial, inbreeding, identity, registration, succession, still unresolved. The new code, far from resolving the issue, has left them in the same or more defenseless situation than before their validity. Bearing in mind that the Roman legal conscience protected not only the life of the nasciturus from the first moment, but also protected the goods that by succession could correspond to it; we estimate, there is no lasting advance without taking root.
Keywords: cryopreserved embryos; heritage; Roman Law; projection.
References
Bach de Chazal, Ricardo. El aborto en el Derecho Positivo Argentino. Buenos Aires, 2009.
Bergel, Salvador. "Genoma humano: cómo y qué legislar." Revista La Ley (2001).
Estrada, Susana. "La persona por nacer en el Corpus Iuris Civilis, en el Código de Vélez  Sársfield y en el proyecto de Código Civil Argentino de 1998." Roma y Argentina,  Diálogo de culturas (2008).
Estrada, Susana. "La protección del nasciturus: una evolución desde las fuentes            romana hasta el presente del derecho positivo argentino." Revista Nuevas Propuestas 49 (2011).
Estrada, Susana. "La persona por nacer en las fuentes romanas y su proyección a la legislación  argentina",  Revista de la Asociación de Derecho Romano de la República Argentina, vol. 7, Ed. Publifadecs, General Roca, Río Negro (2013).
Estrada, Susana. "Embriones congelados, ¿delito o derecho?. " VERGENTIS, Revista de          investigación semestral de la cátedra internacional conjunta Inocencio III 1 (2015): 131-154.
Estrada, Susana. "¿Quien representa al concebido extrauterino?. Entre la tradición y la innovación." Revista INSERCION (2016).
Loyarte Dolores, and Rotonda, Adriana E.  Procreación Humana Artificial: Un desafío bioético: aspectos biomédicos, aspectos bioéticos, aspectos jurídicos. Buenos Aires, 1995.
Mainz, Carlos. Curso de Derecho Romano. Barcelona, 1892.
Mazzinghi, Jorge. "La adopción prenatal." Derecho de Familia, T.4 (1999).
Medina, Graciela. "El derecho de sucesiones y el nuevo código civil y comercial." www.gracielamedina.com˃Uploads˃:SUCESIONES-…IPIO-final.doc. (Consulta: 10 abr.  2017)
Medina, Graciela. "Reforma al código civil argentino en materia sucesoria." Http//reforma sucesiones2.doc.  [Consulta: 12 abr.  2017].
Penchaszadeh, Víctor. Genética y Derechos Humanos, Encuentros y desencuentros, Tramas sociales. Buenos Aires, 2012.
Ratzinger, Joseph. "Instrucción donum vitae sobre el respeto de la vida humana naciente y la dignidad de la procreación." AAS (1987).
Romeo Casabona, Carlos María. El derecho y la bioética ante los límites de la vida humana. Madrid, 1994.
Testart, Jacques. La procreación artificial. Madrid, 1994.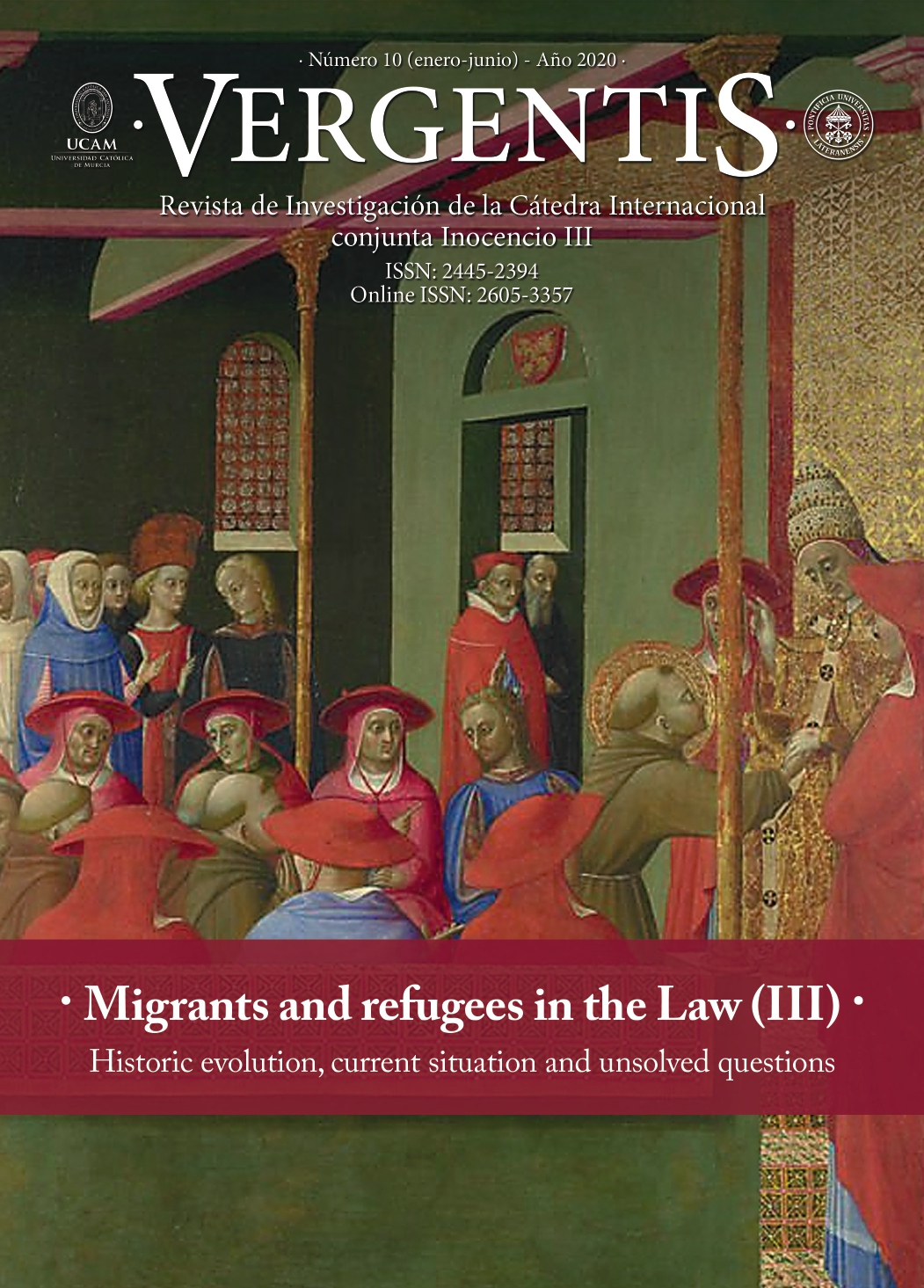 Downloads
How to Cite
Estrada, S. I. (2020). Frozen embryos versus inheritance law. Revista De Investigación De La Cátedra Internacional Conjunta Inocencio III, 1(10), 201–218. Retrieved from https://vergentis.ucam.edu/index.php/vergentis/article/view/180
Section
Notes, current status of research and bibliographic review